Our visit to Disney World was wonderful. After waiting 17 years I was somewhat concerned that I had built myself up for something that would just be another amusement park so I was happy to learn that my fears were unfounded. Disney World really focuses on attractions and stories rather than thrill rides, every employee ("cast member") of Disney I encountered was cheerful and friendly and their FastPass ticketing system which allows you to reserve a ticket for a ride rather than waiting in the full line for everything worked out really, really well.
We checked in at the brand new Wyndham Grand Orlando Resort, Bonnet Creek on Thursday morning after our redeye flight into Orlando Wednesday night, very thankful for their ability to accommodate our early check-in. We took a nap and then headed over to Epcot where we were planning on meeting my aunt Mary Ellen and uncle Joe to spend the evening with them enjoying the Epcot International Food and Wine Festival.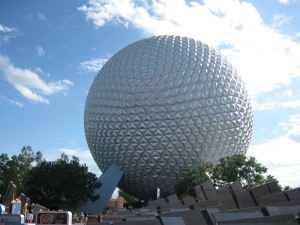 Epcot was the park I actually got to visit on my failed trip to Disney 17 years ago but I was still feeling a bit sick that day and Spaceship Earth (the big ball thing) was closed for repairs. This time I was finally able to enjoy and remember it! Upon arrival we grabbed some food and wandered around some attractions in Future World, including my first ride on Spaceship Earth (hooray!) and visiting a couple attractions in The Land. We met up with my aunt and uncle in the early evening. We went into Imagination! – perhaps the only attraction I did remember from my last visit and I picked up a Figment stuffed animal. We spent the rest of the evening enjoying the International Food and Wine Festival where you walk around the World Showcase and buy small portions of dinner and dessert cuisine from all the different countries (with a few countries like "cheese" and "desserts" thrown in). The night finished off by watching the fireworks.
Friday we spent the whole day at Epcot. We ended up taking a hotel shuttle to the Disney transportation center and taking the monorail to Epcot, my first Disney monorail ride! Their monorail system is pretty cool, on the one to Epcot they do a quick loop around Epcot to give you the basics of what to visit.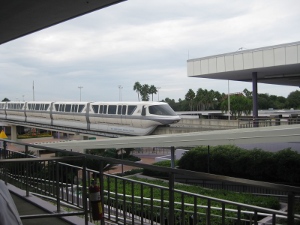 The day began with a bit of rain, but it had mostly cleared up by the time we got to the park. We spent the day going around Future Land to catch several of the big rides, including Mission: SPACE, Test Track and Soarin'. We had lunch at the amazing Restaurant Marrakesh on the Morocco Pavilion for a wonderful meal complete with entertainment of live musicians and a belly dancer. It's amazing how quickly a day goes by, there are still some rides in the World Showcase that I want to go on. In the evening we met up with a couple of MJ's colleagues who also happened to be at Disney for the weekend with their young daughter. Dinner was in Italy and once again we wrapped up the night by watching the Epcot fireworks.
Saturday was Magic Kingdom day!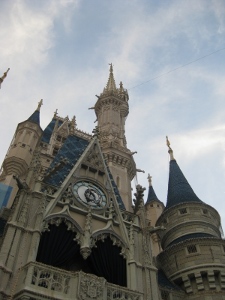 We took a hotel shuttle over and then the Ferry from the transportation center to the Magic Kingdom itself. We took a quick train ride around the park and then it was off to Tomorrowland. We took the PeopleMover around to get a view of everything and then enjoyed the Carousel of Progress, Stitch's Great Escape and Space Mountain! Throughout the day we got to take part in other classics, including the Jungle Cruise, Big Thunder Mountain Railroad, a walk through Cinderella's Castle. The only disappointing thing about the Magical Kingdom was the food, which was mostly a selection of hot dogs and hamburgers and distinctly pales in comparison to the amazing food over at Epcot. In the early evening I waited in the 35 minute line for a short ride on Dumbo the Flying Elephant, after which we met up again with MJ's colleagues and went on It's a Small World, The Many Adventures of Winnie the Pooh and then watched the spectacular Magic Kingdom fireworks over Cinderella's Castle. Wow. The evening was wrapped up with a bit of shopping.
Sunday was Animal Kingdom day! But first we had to check out of our hotel and spent breakfast with my grandfather, his wife, Jo, and my uncle Joe. It was nice to get to see them again so soon (we had just seen my grandfather in Phoenix a couple weeks before) and start the day with a tasty breakfast at the hotel buffet. Once checked out of the hotel we loaded our suitcases into my uncle's car and the three of us headed over to Animal Kingdom for the day.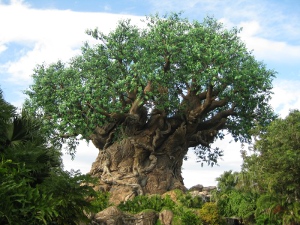 Obviously I love animals, so I was always excited about the existence of this park and I was very happy to finally visit it. The first thing we did was go on the Safari, which is really the highlight of the whole park, taking you through different African ecosystems to see a variety of animals. We saw Festival of the Lion King, Flights of Wonder with several birds showcasing natural bird behaviors and explored the Maharajah Jungle Trek where we got to see their tigers actually awake and wandering around their enclosure! We had a delicious lunch at Yak & Yeti Restaurant and then unfortunately it was time for my uncle Joe to drive MJ to the airport for his evening flight back home. Sad!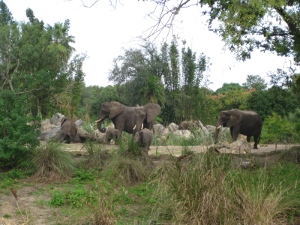 I stayed at the park until closing, going on the safari again and, my uncle rejoined me again after dropping MJ at the airport. We went into the It's Tough to be a Bug! attraction and went on the Expedition Everest roller coaster. When the park closed my uncle drove me to my hotel to begin my week at the Ubuntu Developer Summit (UDS).
I extended my Disney ticket for a day on Sunday because my family had planned on going to Epcot on the Saturday following UDS, but their plans didn't end up syncing well with mine. I planned on going to Epcot anyway but then realized I really wanted to go to the rest of the attractions with MJ, so instead I decided to spend that extra day on my ticket on Saturday by going to Animal Kingdom again by myself where I picked up where I left off attraction-wise. Got to the park at opening (9AM!), went on the safari again, took the first ride of the day on the Wildlife Express Train to Rafiki's Planet Watch. I got my picture taken with Lilo and Stitch: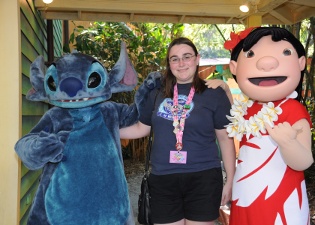 Then had lunch at the Rainforest Cafe and then headed over to DinoLand U.S.A. for their DINOSAUR ride. I will say, having a the friendly Disney staff makes all the difference when going to a park alone, it didn't feel nearly as lonely as other touristing adventures I've been on alone were. After DinoLand it was time for me to catch a shuttle back to the hotel.
More photos from our trip are here: http://www.flickr.com/photos/pleia2/sets/72157627953468729/
I picked up my bags at the hotel and caught a shuttle to the airport for my evening flight. Between all the Disney, family visiting and UDS fun, it was a wonderful trip! We're thinking of doing another Disney trip in the future and are thinking we'll actually stay at The Contemporary, the Disney resort next to Magic Kingdom that actually has the monorail run through it.