This is the home page of Elizabeth Krumbach Joseph.
A little page devoted to Princess Leia can be found here: Tribute to Princess Leia.
Looking for the website of the actress who played Princess/General Leia? Go to Carrie Fisher's website.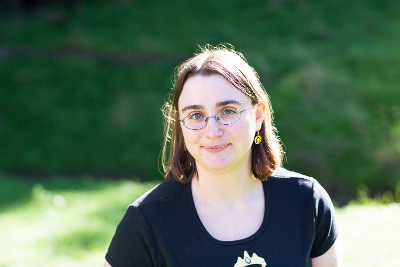 Profiles on: Faces of Open Source, Speakerinnen, & SheSource profile
Email me at lyz@princessleia.com
pleia2 on Twitter & Instagram
pleia2@floss.social on Mastodon
Call sign: KN6QGG
"Governor Thomas was so pleased with the construction of this stove, as described in it, that he offered to give me a patent for the sole vending of them for a term of years; but I declined it from a principle which has ever weighed with me on such occasions, viz., That, as we enjoy great advantages from the inventions of others, we should be glad of an opportunity to serve others by any invention of ours; and this we should do freely and generously." -- Benjamin Franklin, Autobiography published 1790 (emphasis mine)
Speaking engagements, 2019 - 2023
2023
2022
2021
December 7, 2021: Red Hat OpenShift Container Platform web server workshop at the Launch to IBM Z event
November 18, 2021: Introduction to Enterprise Computing & Open Mainframe Project Mentorship Program (slides)
November 17, 2021: "How and Why to Modernize in Place with IBM Z" at the IBM Community Festival 2021 (slides)
October 28, 2021: "Ignite your Technical Rock Stars" panel at IBM TechU virtual edition 2021
October 14, 2021: "Developing open source software for various hardware architectures" at Hashnode Open Source Symposium (slides)
September 30, 2021: "Contributing to open-source & how to get involved in the community panel" at Canonical booth at virtual Grace Hopper Celebration 2021
September 23, 2021: "General Mentorship Session" at the Open Mainframe Summit
September 15, 2021: "Looking for Open Source Software on Z? Meet the Software Discovery Tool!" at IBM Z Day (slides, video)
August 24, 2021: "Introduction to Enterprise Computing" on the IBM Z Apprenticeships for Veterans Webinar (slides)
June 11, 2021: "You're Running That on WHAT? Developing Software for Non-x86 Platforms" at Women Who Code CONNECT REIMAGINE 2021 (slides)
May 26, 2021: Hands on Linux Lab at Launch to IBM Z with Mom Relaunch (slides)
January-April, 2021: Taking a break for a few months to welcome our second child!
2020
2019
December 9, 2019: "Modernizing Workloads with Linux on Your Mainframe" at Open FinTech Forum (slides)
November 20, 2019: "Wait, People Run Kubernetes on Mainframes?" at KubeCon + CloudNativeCon NA 2019 (slides, video)
November 8, 2019: "Discussion about IBM Z" panelist at Datathon for Social Good: IBM Z & UC Berkeley
October 29, 2019: "20 Years of Linux on the Mainframe" during LISA'19 Lightning Talks (slides)
October 19, 2019: "Developing for the Modern Mainframe" at Silicon Valley Code Camp (slides)
July 3, 2019: "Linux on Mainframes: Past, present, and future" at Philadelphia Area Linux Users Group (slides)
January-June, 2019: Taking a break for a few months to welcome our first child!
For earlier speaking engagements, see: speaking engagements prior to 2018
Interviews
June 20, 2023: Meet Us in Las Vegas or New York for the Open Mainframe Summit – The Open Mainframe EP 22
November 29, 2022: The Open Mainframe EP 16: Do Linux Distributions Work Together? They Do Now!
November 22, 2022: TFiR: Meet The New Linux Distributions Working Group For Mainframe
December 27, 2021: TFiR: Meet Open Mainframe Project Mentor & Mentee
September 1, 2021: Elizabeth K. Joseph on Being a Developer Advocate and the Future of Mainframe Technology
September 28, 2020: 10 Years of OpenStack – Elizabeth K. Joseph at IBM
September 1, 2020: What Works for the Latest Mainframe Generation at IBM
April 28, 2020: Podcast 230: Mastering the Mainframe
March 13, 2020: Jupiter Broadcasting: Brunch with Brent: Elizabeth K. Joseph
November 20, 2019: I am a Mainframer: Elizabeth Joseph
October 10, 2019: Linux.com: Why Linux Developers Should Reconsider IBM Mainframes
July 29, 2019: Terminal Talk: Elizabeth Joseph - Hyper Protect
July 17, 2019: Linux Spotlight EP06 - Elizabeth K. Joseph
January, 17, 2019: CodeChix Member of the Month: Elizabeth Krumbach Joseph
March 21, 2018: Containers and open source, a conversation with Elizabeth Joseph
November 14, 2016: Linux Luddites Episode #91, interviewed about OpenStack
October 26, 2016: OpenStack Podcast: Elizabeth Joseph at the OpenStack Summit Barcelona
April 20, 2015: Sultan Qaboos University Horizon magazine #313, interviewed about why companies and individuals contribute to open source software
September 2, 2014: Linux.com: How Elizabeth Joseph Became a SysAdmin on HP's OpenStack Infrastructure Team
May 26, 2014: Linux Luddites Episode #16, interviewed about Xubuntu
February 23, 2014: SCaLE12x Speaker Interview: Elizabeth Krumbach Joseph
October 4, 2013: Frostcast Episode 084 Xubuntu
August 27, 2013: Meet the HP Cloud Team: Elizabeth Krumbach, OpenStack Infrastructure
March 7, 2013: Ubuntu UK Podcast: S06E02, interviewed about Xubuntu
February 20, 2013: Share The Bytes: Episode 10 - Women of Ubuntu
January 1, 2013: Ubuntu Women- Where are they now? Follow up with Elizabeth Krumbach
September 28, 2012: ReadWriteWeb: Meet The Ubuntu Women - They're More Involved Than You Think
June 6, 2012: Ubuntu UK Podcast: S05E08, interviewed about California LoCo team, Ubuntu Women, and the Community Council
September 24, 2011: The Linux Setup - Elizabeth Krumbach, Ubuntu Women Project
May 14, 2010: UDS-M Interview Elizabeth Krumbach Community
April 20, 2010: OMG Interviews Elizabeth Krumbach, Ubuntu women, learning team, beginners team all star
April 4, 2010: KPFA 94.1 Berkeley Radio interview: Digital Chronicles, April 4, 2010
October 20, 2009: Interview in e-zine: Pardus-Linux.Org eDergi 13. Say\C4
April 2009: Full Circle Magazine: Issue 24
June 12, 2008: Follow-up interview with Alex Launi about Ubuntu on WCOJ 1420AM's "Computer Corner"
July 14, 2007: Interviewed with Alex Launi about Ubuntu on WCOJ 1420AM's "Computer Corner"
September 22, 2006: Interview: Elizabeth Krumbach of LinuxChix
GPG Fingerprint: F1A1 2FEF 82A5 666C F9A4 A748 2FC7 6319 BC23 49FC
(Old GPG Fingerprint: C058 1828 40C6 1A14 C641 70EC A353 ABF3 BC9A C50C, see transition statement)