I live about 250 feet from the Wikimedia Foundation office in San Francisco, so when Beth Lynn Eicher told the Partimus crew about a How the Wikimedia Foundation uses CiviCRM presentation hosted at the Wikimedia Foundation on April 7th I had to attend. I didn't know a whole lot about CiviCRM but as Partimus grows we're looking into the options for contact and relationship management. These management systems are always complex, and there was a lot of discussion about improving workflow for better usability. I've since played around some with civicrm.org/try with Drupal 7 a little and am thinking of tossing it up in a VM to do some further exploring.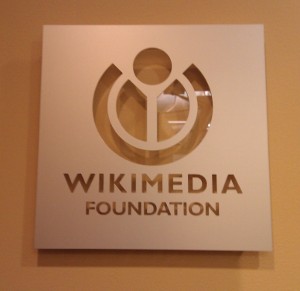 Friday the 8th, while I was scrambling to get everything together to wrap up my work day and finish packing for my red eye flight, several of my fellow Partimus volunteers were heading over to the International Studies Academy in San Francisco to get the computers in their library upgraded to Ubuntu 10.04.
James Howard working on upgrades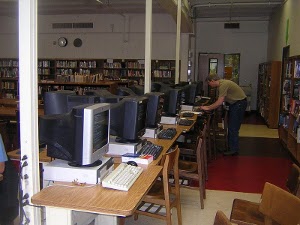 Grant Bowman working on upgrades
Photos by Mark Terranova under a CC-BY license, more are available here: https://picasaweb.google.com/tuxwingsgroup/ISALab#
The librarian at the lab has graciously given us a testimonal:
"The Partimus.org Linux computers have been wonderful for the library at our school, International Studies Academy. Daily, approximately one hundred students use the computers. The students use the Ubuntu Linux-based computers for Internet research, class assignments, and essay writing. We find that the computers are sturdy and stand up to heavy use. The computers also don't get viruses, which is nice. We really appreciate that the Partimus volunteers come in and maintain the computers as well." – Nancy Cussary, the Librarian at the International Studies Academy
More about deployment can be found here: http://partimus.org/isa.php
This Wednesday I hosted a San Francisco Ubuntu Hour at The Roastery on New Montgomery. I brought along a couple USB sticks with the Beta2 of Ubuntu 11.04 on them for people to check out. I'll be sticking with my beloved Xubuntu (Xfce 4.8 – woo!) but was happy to see how well Unity worked out of the box on my mini9 compared with the Beta1. While we were at the Hour we struck up a conversation with a woman sitting nearby who works as an IT project manager and uses Ubuntu.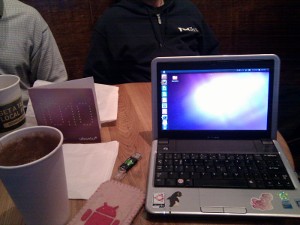 Finally the video from my Finding Help in Ubuntu presentation at SCaLE9x in February is now available on the presentation page: Finding Help in Ubuntu, the slides are also available linked there. The SDForum Tech Women: Women and Open Source panel I participated in also has videos online as posted in the Google Open Source Blog: Googlers @ Women and Open Source: Panel Discussion.