Back in 2008, on the tail end of a particularly rough year, a few of my friends got together and bought me the pink mini9. It was the first new portable computer I'd ever owned. That little mini9 is still chugging along and the only thing that doesn't work anymore is the speakers (the wires are in the hinge going to speakers next to the screen, I think they've gotten worn over time, it can probably be fixed).
Yesterday I bought my first new laptop. When I reviewed the ZaReason Strata Pro 15 Laptop back in 2010 I discussed some of my computing habits and where a full size laptop would fit into it. Ultimately the reasons for getting one weren't overwhelmingly compelling, but they did pop up every so often. During the holiday season in 2011 I began browsing Frys ads for a super cheap laptop. I don't care about branding these days as I sadly don't expect modern laptops to last more than a couple years, but I did want a processor with hardware virtualization. The search was fruitless until this week, when I saw this advertisement: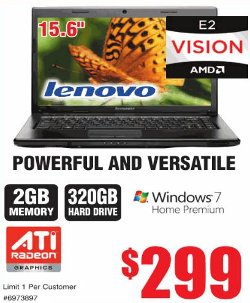 And since I assume the product page will disappear soon, uploaded a copy of the advertised specs here. Not bad! 2G of RAM, upgradable to 8G, AMD E-450 which does indeed have virtualization support and a good Ubuntu Friendly report.
I called ahead to make sure they had some in stock and them MJ and I made the trek down to Fry's to check it out. Predictably I ended up coming home with one.
I loaded up the pre-installed Windows 7 when I got home to make sure everything came up as expected and then installed Ubuntu 11.10 on it. Everything was detected and the installation was a breeze even with the resize of the Windows partition (with 320G of harddrive space, it doesn't hurt to keep it for now).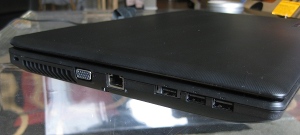 They keyboard is nice to use, includes a keypad (love!) and the the laptop isn't too heavy to bother me when actually using it on my lap. The form factor makes the whole thing pleasant to work on. The display is beautiful (hooray for the popularity of backlit) and so far it's all pretty speedy. If I were to complain about something it would be that I can hear the fan, but I think I'm just spoiled by my fanless mini9.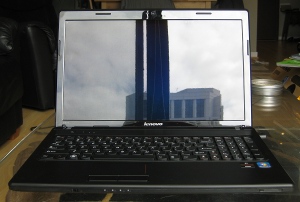 I think what struck me the most about it is how immediately comfortable I was using it. I spent all of yesterday evening getting my work done on it barely giving it a second thought except for the moments when I'd forget the placement of the PgDn key or similar. I rarely adjust to new devices this quick.
In addition to adding more RAM, I'll probably swap out the current harddrive for an SSD, but for now it's a great little machine and I couldn't beat this price.