Sunday afternoon Michael and I went out to King of Prussia to hit CompUSA. Michael bought a SanDisk Sansa e140 Digital Audio Player 1 GB about a week ago from NewEgg for about $80 with shipping. We figured we could see how he liked it and buy me one if it was any good. After fiddling with Michael's for a bit on Saturday I decided that I wanted one and couldn't wait.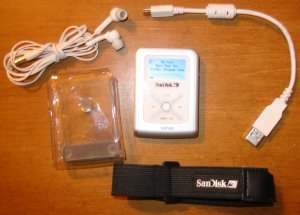 It plays MP3s and WMA files, no oggs, but I'll survive (and re-rip a bunch of stuff). It also has an FM radio tuner, which is a nice addition. It acts pretty much like a flash card reader when you plug it in via USB 2, which means I can mount it as SCSI in Linux and just cp files over (it works similarly in Windows, very simple, no drivers).
It came with the things in the picture above:
– stock headphones, actually not that bad, quite an improvement over the discman headphone days
– a short USB cable, which is too short to be reasonable since the USB ports are on the back of my desktop, but luckily it's the same type of USB cord that our digital camera uses so I use that. I'm keeping this short cord here at work, since I have a USB port on my monitor and it works fine with that.
– a plastic carrying case, which is pretty cheap but does the job (what do you expect to be packaged with a $80 player?)
– an armband, nice for the gym
– an expansion slot for a 2 gig flash card
It runs on one AAA battery, and claims to give you 17 hours of life that way, which I can't say much about, it certainly does last a while. We picked up rechargable batteries for them. No charging through USB like other players have.
Navigation is reasonable, there isn't playlist customization and you can't delete via the player interface, but you can play according to "artist, album, song title, genre, year, date loaded, and more" assuming you have your ID3 tags properly set up. For the FM radio you can set up 20 stations as presets. It doesn't resume from the spot where you stopped a song when you turn it off, but I'm not really bothered by that yet (although this might change if I start dropping mp3 podcasts on it).
I can't say I have any real complaints. I threw a bunch of stuff on it Sunday night for the gym on Monday morning, and when I got to work I copied those files onto my work machine (more music for work! yay for my mp3 player playing USB storage device) and moved some music from my work computer onto the player (I ripped a bunch of CDs here at work in WMA format to listen to here).
And so now I've joined the 21st century. Michael said he's glad we waited until the technology got good enough so that you could get a reasonable player for under $100, and I can't agree more.