Today I got up shortly before 7, showered, dressed, got my directions and headed down to Cheltenham to catch my ride down to a Girls Inc+Ubuntu PA+PhillyChix+some Philly computer society I forgot the name of. The Philadelphia Stock Exchange donated 10 PCs (1.7ghz – decent machines!) to Girls Inc to give out to girls and it was arranged to get them installed as a dual boot with Ubuntu and Windows. Kevin Valentine did pretty much all the prep work for our group, which was awesome. We arrived at Girls Inc around 10AM and had to wait around a bit for the machines to show up. Kevin had previously imaged most of them, but there were four left to do, so Kevin and I got to work on that while the girls were show around Windows. When the imaging was almost complete they asked me to give the group (about 20 people) a blurb about Ubuntu and tell the girls who I was (Ubuntu Member, a woman working with Linux as a career). It was impromptu and I hope I didn't speak to quickly or sound dumb, I accepted because I'm trying to get over being so nervous about such things but I still am not the best at it.
Girls Inc sprung for lunch (how great of them!) and we showed a few of the girls around Ubuntu. There were a few snags, but considering the time and resources restraints placed on us I think the event went well. Now pictures! I forgot my camera at home so theses are all ones I swiped from 's gallery, the photos were taken by him and his girlfriend Christina (yes, she uses linux too, my grand scheme is to teach her Debian and get her to do some linux work at the company I work for). Thanks Joe and Christina!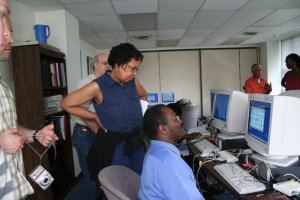 Some of the organizers working on Windows.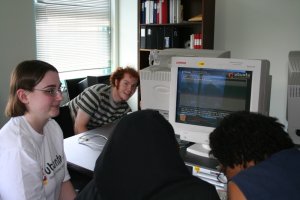 Me working with one of the girls on Ubuntu – just booting up. Alex too!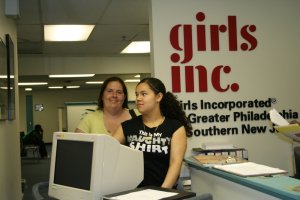 One of the girls and her mother leaving with their new computer.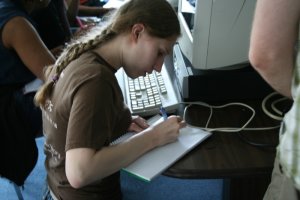 Christina taking notes about Windows licenses (how did we get stuck with this job? We're the Linux people who don't have to worry about such things!)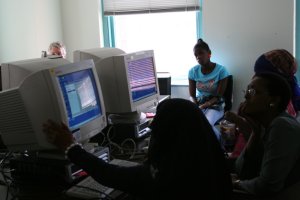 One of the other volunteers helping some of the girls with Windows
Things wrapped up around 2:30 and I was home by 5.
And at 5 there was an Ubuntu Women meeting in IRC. I was late for it (had to get settled in once I arrived at home…). I did make it though and the meeting went well. Hopefully I'll have notes up tomorrow. I was going to do it tonight but it's getting late and I'm tired.
Shortly after I got back home Michael left for the 2007 Starscape Festival in Baltimore. I totally would have gone if the Girls Inc thing wasn't today, but from the way I'm feeling now at 11PM I'm sure I would have just been a drag. In light of me being busy today and Michael going to this pretty much all-night festival we decided to pass on the Bear Creek Beerfest tomorrow. We have enough going on in the next few weeks, and I haven't really been in the mood for beer lately. Aside from that lambic I picked up to enjoy late this evening with an MST episode…
After wrapping things up with the Ubuntu Women I headed down to the YMCA in Spring Valley. I haven't been getting to LA Fitness in the mornings, it's just too far, so I'm getting all out of shape, yuck. So I signed up at the YMCA tonight, maybe I'll start going tomorrow, I could really use a dip in the pool. After the Y I headed over the pet store and picked up some cat food and a few more tetras for the tank. I got a couple Buenos Aires Tetras and three Serpae Tetras – yay!
And then I came home and did some work to get my new laptop-as-debian-development-machine further set up. I think the last thing I need to do is get the svn logged in, but after throwing a few fixes at webcalendar this evening I'm just too tired to do any more.
Simcoe is doing well, Caligula finally stopped being scared of her, now we just have to keep an eye on them when they're together so he doesn't bother her sutures. The last remaining problem is the removal of sutures situation – they're supposed to be removed 16 days after surgery, but we're supposed to be at Gaian Mind in 16 days. I'll be calling the vet next week to see if we can remove them in 14 days instead if there are no complications. I really didn't expect over 2 weeks of recovery from the spay :\