Last weekend I attended the August 2008 LAN Party hosted by the Ubuntu NJ folks. There were two parties, one in North Jersey and the one I attended in Cherry Hill, across the bridge from Philadelphia. I got a bit lost on my way out (oops) but arrived shortly after 5 for BBQ and a few good hours of Urban Terror. The North Jersey contingent hosted the server on a huge server with a nice internet connection, and Joe's FiOS gave us a nice pipe for being connected to them. Jim provided the all important Oreo Cake and Brian supplied us with… relatives? Yep, halfway through the first Urban Terror match I made the comment "what's with all the Quigs?" He brought two of his brothers along to the party, wicked.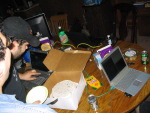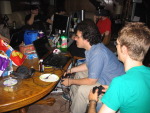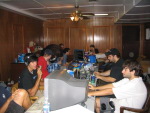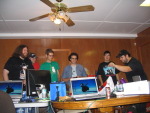 More photos are over on the Ubuntu-US-PA gallery: 20080823 – Ubuntu-US-NJ LAN Party, Cherry Hill
There was also Armagetron fun to be had, but I ended up bailing on that to chill out for a bit on the sidelines, eat some cake, and take some photos. All in all, a very fun night – excellent work guys!
Also in local Linux stuff, I mused aloud recently about the need for a PLUG logo. I didn't expect a response, so I was delighted when fellow PhillyChix member Stephanie Fox messaged me to offer her design skills for a logo. She pulled through brilliantly! In less than 2 weeks she had an amazing Ben Franklin Tux logo that everyone in the LUG was happy to embrace (even if they did bicker about licensing).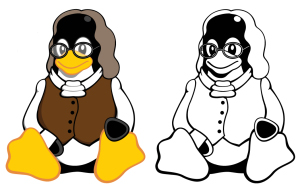 While I was at it, I also created a LinkedIn group for PLUG (wow, up to almost 40 members!)
I now have my first Full Circle Magazine article out there. It's a column for the Ubuntu Women team on how to get women in your life involved in Ubuntu. Download here, my article is on page 29. Unless you want the cliffnotes version, which is: "Just like anyone else, we're humans too!"
I also did two releases of the LedgerSMB .deb on Alioth on the tails of the 1.2.15 release this week. I finally made the decision to include postgres 8.3 support in the .deb with a 1.2.15-2 release I deployed Thursday night since they're so close to Official support within the core LedgerSMB project and I had a request for support in the package. I've deployed it on a testvm at work and it's chugging along nicely. I was also nudged by Fabian Rodriguez after my last LedgerSMB post, he pointed me in the direction of Bug 150374: [needs-packaging] ledgersmb get added to the repositories, which has some folks interested. Hopefully this will go somewhere and I won't continue to be the sole packager in Debian, and getting it in Ubuntu too? Even better!