The Debian Installer lenny release candidate 1 was released on November 12th, which inspired me to check it out and give the installation over ssh a try. Installation over ssh has been supported since the Etch installer, but I embarrassingly have to admit that I didn't know about it until just recently, and it was just last month that I tried it out for the first time. So this post is more of a "Look, this thing exists and is neat and easy!" than a formal how-to for something tricky.
The screenshots and CD I burned were from Lenny (Testing) which I downloaded here this morning, but this is also supported in Debian Etch in a similar way.
Boot from the CD and in the Installer boot menu select "Advanced options >"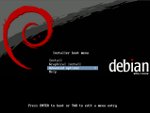 Then select "Expert install"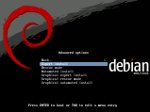 The installer will load up and you will be presented with the Debian installer main menu.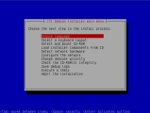 Since the default language and keyboard are fine to get me going (I can reconfigure them later once I get this going over ssh), I skipped these and went straight for "Detect and mount CD-ROM". When it asked me if I wanted to Start PC card services I selected "No" since I'm not using any PCMCIA cards.
The next option on the menu is "Load installer components from CD", which you want to select. Browse the list, but for my basic needs the only thing I needed to load up was "network-console: Continue installation remotely using SSH"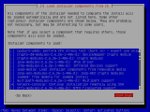 Now you'll need to get networking going. Select "Detect network hardware" and then "Configure the network".
Next you want to "Continue installation remotely using SSH"
This will generate SSH host keys and have you set a remote installation password. Once it has these set up you will be presented with a screen giving you an installer@ipaddress location for the install and an SSH fingerprint. Use these to ssh into the installer!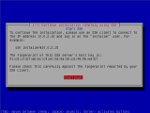 Finally – log in from your remote PC and complete the installation.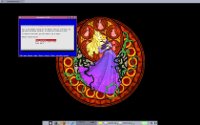 I went back and configured keyboard to confirm it was correct and languages so I could add a couple of locales, so don't forget to do this if you need to change something about your configuration.