On Saturday the 1st the Philadelphia team of the Ubuntu Pennsylvania LoCo held our release party. Just like last year, we decided to celebrate the release with a Halloween influenced costume party at Drake Tavern in Jenkintown.
Drake Tavern is quite the hospitable place for our events, it's a pretty family-friendly environment (Zoe was our youngest participant last year) and they gave us plenty of space and were tolerant of us spending a few hours there. We had several new folks show up (including one who trekked out from Pittsburgh!) and a few of us dressed up… I couldn't resist a Leia costume, ssweeny as Indiana Jones, ChinnoDog as an executioner and jedijf, the primary organizer of the party, as a satanic priest.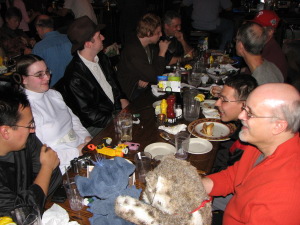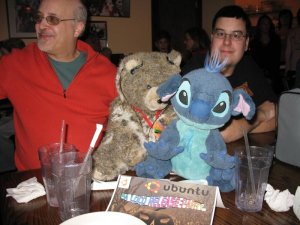 More photos here: UbuntuPennsylvania.org Gallery: Ubuntu Intrepid Ibex Release Party
As a whole, the party was a blast, but a very unexpected event very early on almost made it end very quickly…
Paraphrased from jedijf in IRC, here is what happened:
So a 14 year old kid who had frequented our IRC channel shows up with his friend and mom, Randy and I are the only ones there, standing outside on their deck above the Ubuntu banner so people know where to come. I am in costume as a priest with the pentagon chain, Ubuntu satanic edition! Randy is of course with his teddy bear. So the mom asks "When is everyone supposed to get here?" We tell her "around 3" but it's now 3:20 ish and no one else is there. Some 20-somethings leave the bar to smoke and she decides this is not the right place for her son, says so and leaves with her son and his friend. I say "No problem," I don't want the kid to feel uncomfortable.

10 minutes later 2 Jenkintown police cars show up. They ask me what am I doing and why am I dressed like that. I say "It's Halloween and we're having a party" and the police ask for some ID. I point out the banner, explain that we we have reservations, but end up going to get ID and some CDs. The police officer checks Randy's ID and tells him someone called in a complaint that we were trying to lure young boys. InHisName (another regular of the IRC channel) comes up with his son and the police take his son aside and talk to him. In the end I show the officer my ID and offer him CDs to take back to the station, he only accepted one.
Wow! I absolutely respect this mother's decision to remove her son from a situation she was uncomfortable with, but taking the additional step of calling the police really says a lot about the culture of fear here in the United States. It was a bit upsetting. We'd rather not restrict attendance of our events based on age (and I'm positive the Ubuntu Youth folks wouldn't be pleased with this either!), and probably won't. However we are now more aware of what kinds of things can happen and it has gotten me to think what we can do to prevent this kind of situation in the future.