I took Blinker over to my mechanic this morning (Scott Smith over at Smith Automotive). It was awesome that he was able to squeeze the repair in this morning and it didn't cost me a fortune ($35 in labor, $30 for the part, yay I can pay my rent! …I'm only mostly joking).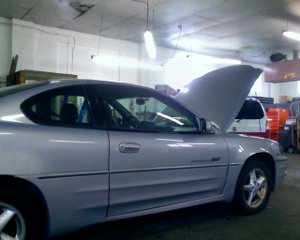 The window? Well, I can't afford to fix it at this moment since they'll need to take apart the door to even diagnose it so I'm bringing it back on June 8th. Then I get to bring it back for inspection in the beginning of July. Blinker really needs to stop breaking and behave.
Tonight my sister and I will probably be chilling down at the North Coventry Mall and then have some dinner. I drive her to the airport tomorrow morning, and am a bit sad to see her go!