This past weekend I flew to San Francisco to visit my boyfriend and help him start getting settled into the gorgeous new condo he recently purchased and I had yet to see.
Upon arrival, I felt like I'd been there before! This was partially due to the photos and raw floor plans he sent me, but was also was greatly helped by the Sweet Home 3D software that I used to help him plan the furniture layout prior to the move.
I'd never actually used any kind of floorplan software, and honestly I didn't have high hopes when I went out looking for what I essentially wanted to be Google SketchUp, but runs in Linux while still being cross-platform. I was delighted when I discovered Sweet Home 3D and even happier when I found it was actively maintained (last release, version 2.0, was on June 6th of this year), was simple to install (I just used the Linux Installer which had bundled java), was relatively easy to use (even for me!), and had great documentation. The FAQ even answered all the questions I had. What a brilliant project!
So I set off turning the floor plans into a real model. It took a few hours, and I'm still no expert at use since this has a lot of features that I'll probably never use and I didn't do fancy things like add windows and flooring, but I ended up with a pretty decent, usable result at the end: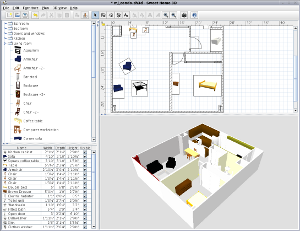 But this hardly does it justice, hop over to the Sweet Home 3D for some screen shots that show the full potential of the software.
Oh, and I had a lovely time on my trip, even if it was too short! Note to self: next time you fly across the country, stay for more than 48 hours! ;)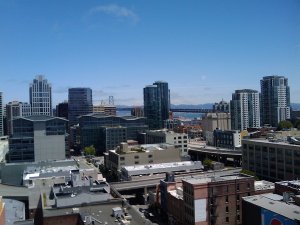 Nice view from the roof of the building :)