I have two upcoming open source talks:
"Expanding involvement of Women in F/OSS" at PLUG Central on September 2nd. I've spoken on this topic before, and committed to this one prior to my retirement from the subject in the public arena. I considered changing topics, but the folks at PLUG are a good bunch and I don't anticipate too much stress regarding the topic. The talk has been outlined and I just need to flesh it out, keeping with my commitment of positivity and progress rather than focusing on the past. I probably will include some "yes, sexism exists, here is a link" slides in case the questions come up, but won't take it beyond that.
"Contributing to Open Source Projects" at Central Pennsylvania Open Source Conference in Harrisburg on October 17th. I received the email saying my talk was accepted last night and I'm pretty excited about it. I've done a few PLUG talks and some impromptu speaking for the Pennsylvania LoCo Team never spoken at a conference before. This talk is written and I just need to practice it and tweak it for further clarity. I've already had a couple folks review it but a few more pairs of eyes might be nice in the next couple weeks (this is your invitation to volunteer :)).
Finally, here are a couple of photos from the Virtualization Roundtable I hosted at PLUG North last Monday.
My CLI demonstration of Xen xm commands, (photo by Andrew Keyes):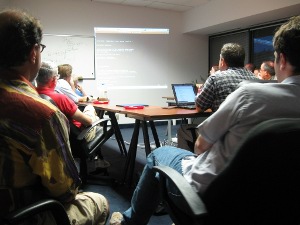 Lee Marzke talking about VMWare: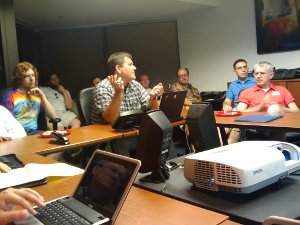 I'm really looking forward to the next time we do a meeting in this format!