Yesterday the Ubuntu Pennsylvania Team hosted a Software Freedom Day event.
We arrived at the Philadelphia Area Computer Society's meeting space in the community center of Giant grocery store in Willow Grove around 8:30AM and spent the morning in the lobby with several computers. We answered questions and chatted with folks coming through about everything from the LTSP systems we had set up, to documentation formats, to Ubuntu on netbooks.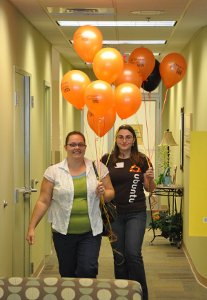 Thanks to Andrew Keyes for this photo
One of the great things about hosting an event above a grocery store is easy access to all kinds of supplies – including helium for balloons! Crissi (our latest Kubuntu convert!) and I took a dozen Software Freedom Day balloons downstairs to be filled for the event.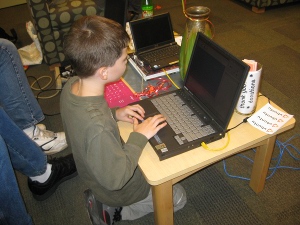 Jim Fisher has been working hard on some LTSP deployments for an upcoming project, in the picture above our young tester Josh is playing a game. In the course of testing these LTSP servers we even found an LTSP+Open Office bug! Later in the day Jim also gave me a demo of partimage on his laptop, which we're hoping to use on our projects with Free Geek Penn.
Thanks to Andrew Keyes for this photo
The presentation of the day was given by David Harding. He came to speak on MythTV and did an excellent job comparing Myth to other consumer products, reviewing the basics and discussing the options available to folks looking to build a MythTV server. During the presentation the question of controlling the MythTV front end via iPhones, turns out there is an app for both the iPhone and G1 as we demonstrate here!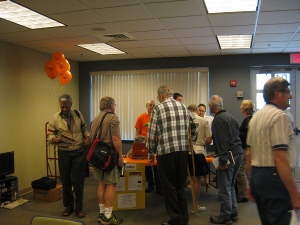 Following the presentation we set up in the back of the room and were made available for questions about free software from everyone in the audience.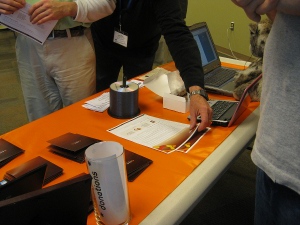 We ended up giving pamphlets about Ubuntu Pennsylvania itself (I printed these out on cardstock, worked very well!), papers with our upcoming MythTV Jam information, Ubuntu CDs, copies of The Open Disc and of course we all spoke to folks about using Ubuntu and other free software.
There were lots more photos of the event, ones I took are here and more from Andrew Keyes are located here.
Very fun event, thanks to everyone who made it a success!