Tonight I was at Staples picking up some last-minute items for the Ubuntu Pennsylvania Software Freedom Day Event tomorrow morning. While I was there I was seduced by the OmniTech Flexible Keyboard, in pink. Teri Solow had pointed me in the direction of a similar one a couple months ago, but the price tag for something so fun and silly was prohibitive. This one at Staples was marked down to $10. Yeah!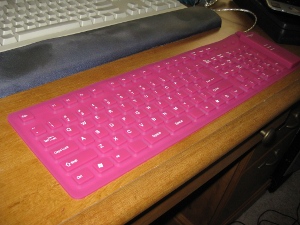 OK, so it's not a great keyboard, in fact I can't quite think of when I'll use it (it's plugged into my pink mini9 here). But fun! Pink! Isn't that enough?
I also snagged a few beers while I was out this evening. I was prompted by a craving for a pumpkin ale, and the place I went to only had the Hoppin' Frog Frog's Hollow Double Pumpkin Ale, which while nothing to write home about pumpkin-ale-wise, it sure has hit the spot. The other two were impulses, but I had to snag them when I saw them. The first is one Jan Claeys recommended I try, the Hanssens Oudbeitje – it's a strawberry lambic, made in the old style of lambics so apparently it's quite sour – no fruity sweet beer here, I'm looking forward to trying it soon. The last is a Cantillion (love!) I've never tried before, the Saint Lamvinus, made with Merlot grapes I'm also quite looking forward to cracking this one open.
Finally, in preparation for the event tomorrow I threw together a few things tonight – a poster, picture frame with Matt Rosewarne's photos and a donation glass. The event is being dedicated to Matt and all proceeds from the donations are going to be donated to the EFF at the request of his family. I still need to print off some info about Ubuntu Pennsylvania to hand out to folks, but right now we're looking pretty good!