On Thursday the 27th we hosted the first real PLUG into Hive76 meeting! We had 15 people show up from the groups involved (Hive76, PLUG, Linux Meetup) and brainstorming plans went well. Dan posted a little info about the meetup on the Hive76 blog: PLUG Into Hive76 == Success!
Plus, Jim Fisher brought OREO CAKE!
We now have a formal wiki page up for the project, which we'll be using to post project ideas: http://wiki.hive76.org/PLUG_Into_Hive76 and we'll probably be using launchpad for the core project tracking itself.
We were also able to check out their new makerbot under construction: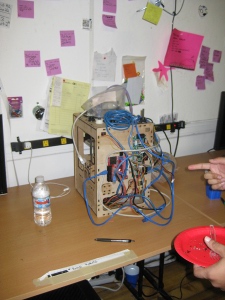 The makerbot (3D-P0) is pretty cool, they uploaded videos of it in action this past weekend: 3dPO Lives!
I committed to my PLUG Central talk on Expanding Involvement of Women in F/OSS prior to pulling back from the debate and discussion on the issue, but I think the perspective I gained by being out of the trenches these past few weeks helped me craft a message with more impact. I quickly realized that my talk couldn't specifically focus on women because that wasn't actually my message. My core message was that F/OSS can be critical, intimidating, and downright mean sometimes, this is a culture that puts off a lot of people who could potentially be contributing, the fewer people in general contributing, the fewer women you'll see, so work to increase the pool you draw from by being nice to each other! This is a culture I've seen be reversed in LinuxChix and often Ubuntu, which is where I draw my "positive solutions" from. So I kept the original name of my talk… for the first few slides, and then punked the audience by introducing a new title slide on slide 4: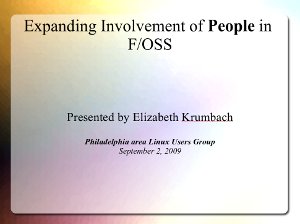 My full set of sides are here. There are other solutions to the lack of Women in F/OSS problem, but focusing on involvement in general is where I currently feel my time is best spent. Which reminds me, I still need reviewers for my CPOSC talk on Contributing to Open Source, so please let me know if you're interested! Other than that, my talk went pretty well, even if I'm still not quite a world class public speaker, this is a far cry from the near paralyzing shyness and anxiety I used to have.
I was also pleased to have Asheesh Laroia in the audience, a new Debian Developer (congrats Asheesh!) and more relevant to my talk, he's the lead engineer of OpenHatch.org, a new open source involvement search engine. From their About page:
Our core product is an open source software involvement engine. For developers, we provide tools for them to demonstrate and grow their experience and expertise in the open source community. For businesses, we connect them with the code gurus who helped write the software they use to fix their problems or recruit ideal job candidates.

Our vision is to make the open source community better connected, more productive, and well rewarded for its expertise. By gathering the most brilliant, passionate minds in software development in one place and helping them collaborate with one another for love and for pay, OpenHatch will facilitate cross-pollination between open source projects and accelerate open source software development and adoption.
He did a demo of the searching ability to link up programmers to open bugs related to programming languages they are familiar with (it's seems their major index at the moment is Launchpad bugs, but they also index some other bug trackers). Cool project, I'll be mentioning it during my CPOSC talk.