On Sunday Stephen and I headed out to Hershey Park for Hershey Park in the Dark. It was fun, but I learned a very important lesson that day: I shouldn't go on roller coasters if I have a sinus headache, for the first time in my life I got physically ill after a roller coaster and was pretty much down for the count fast-ride-wise after just two coasters. Bummer!
But before my headache and stomach barred me from further coaster fun, I did get to check out their brand new Fahrenheit roller coaster, wow – that was fun.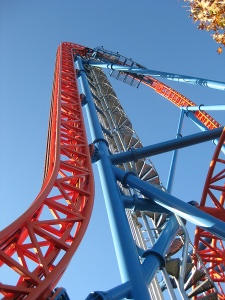 As the sun went down and knowing I was done with roller coasters, I joined the loads of other amusement park goers in the Halloween spirit and snagged a witch hat that had blinking lights!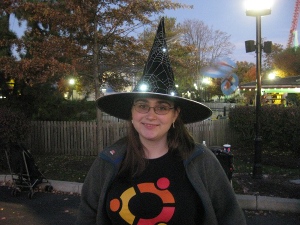 As night rolled in, we headed over to the Zoo America portion of the park for some of the animal events they had lined up. One of them was getting to "meet" a bunch of animals, including an opossum! Later there was an indoor event with a "painting skunk" which meant a skunk was put into a pen with a keeper who had treats and was given treats so it would walk through the non-toxic water-based paint over paper on the floor. At least skunks are fluffy and adorable.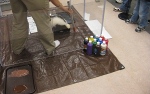 …whenever I think of opossums now I can't help but think of the CAT FOUND! craigslist post that MJ posted to me a while back. Opossums are part Simcoe!
It was around 9PM when we headed out of the park to grab some dinner, I was finally home around midnight.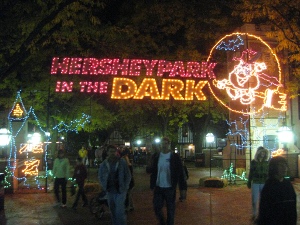 I didn't get or carve pumpkins this year for the 3rd year in a row (kind of sad!), but I am celebrating the "Halloween Season" with some pumpkin bread, pumpkin spice eggnog and scary movie nights all week long! Monday was Amityville (original and remake) night, Tuesday was Johnny Depp night (From Hell and 9th Gate), Wednesday was cartoon night (Shaun the Sheep: Little Sheep of Horrors, Corpse Bride and Disney's Sleepy hollow), tonight was B Movie night (The Brain That Wouldn't Die, King of the Zombies and Atom Age Vampire). Tomorrow night? Considering Tim Burton night, but maybe I'll get more creative before tomorrow night rolls around.