My trip to San Francisco this past weekend was a lot of fun. Lots of yummy food (sushi! thai! gyros! coffees! ice cream!), fantastic company, rug shopping, getting to meet some of the San Francisco portion of the Ubuntu California Team for beers on Saturday night, and a trip to the San Francisco Zoo. Huge thanks again to my boyfriend for making this birthday weekend so enjoyable, thanks MJ! :)
Naturally I failed to take pictures all weekend, except for the 400 I took during the zoo trip.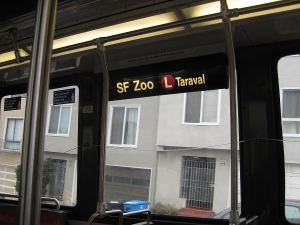 We took
Muni
down to the zoo, which ended up being about a 35 minute trip, where I was fascinated enough by the subway that turned into an above ground train to
tweet about it
. Hey, I grew up in Maine and have never actually lived in a city before! Even Philadelphia public transportation is an interesting theory to me (I've only ever taken regional trains a handful of times, and a bus in Norristown
once
).
Now, the animals!
First the obligatory photo of me standing near a bunch of scary birds. My fear of birds amuses everyone so. And of meerkats, I love meerkats.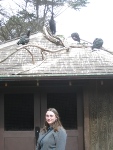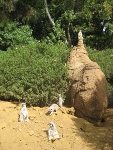 One of the most enjoyable parts of the zoo trip was watching the patas monkeys in their enclosure. The lemurs are always great too, so fluffy and cute!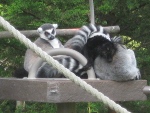 A couple months ago a tiger escape from the enclosure and killed someone at the SF Zoo, yikes! But there wasn't really any indication of this event at the zoo, everything seemed pretty normal with the big cats. And yes, I totally abused my digital zoom during this zoo trip.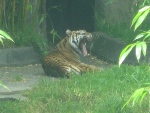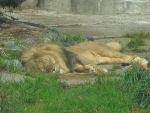 Rhino! And a giraffe near palm trees! I love palm trees.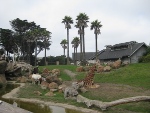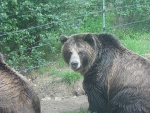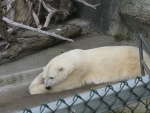 I also have a billion pictures of the penguins, cute penguins!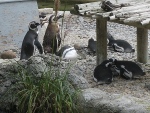 Penguins being fed! And the hose being used to chase off seagulls who want some fish too.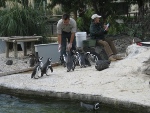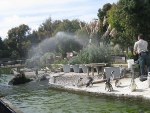 I've posted some more photos over in a flickr gallery.
After the zoo we went for sushi, and MJ took this photo of me by the streetcar we rode back to his place that night after ice cream at Ghirardelli Square (laugh if you like, but I like the touristy nature of that place! And the ice cream!).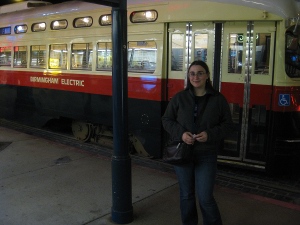 Now I'm back home with the kitties, took a redeye back on Tuesday night/Wednesday morning. Have been buried in work and projects since, I'm so glad I didn't plan anything major during the work week this week, I need this rest time! And to prepare for the Mythbuntu event on Saturday, after which Stephen has so kindly arranged a small birthday gathering at a local Indian restaurant :)