And now those things from the past few weeks that I didn't manage to cover in my last post…
Meeting the San Francisco Ubuntu California folks! What a treat. Grant Bowman arranged to meet up at Thirsty Bear Brewing Company which was about half a block from where I was staying. I was able to meet a bunch of people I've only been in contact with via IRC thus far, including Mark Terranova who took and later posted this photo.
100_6262
Originally uploaded by Gidget Kitchen
Back home, my birthday was a lot of fun. My friend Stephen organized for a few friends to meet up over at Desi Village right after our Mythbuntu Jam on Saturday.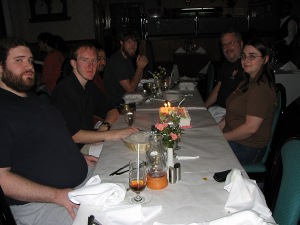 (Thanks to Mike for this photo …which is why he's not in it!)
Stephen even got me a cake… with my IRC nick on it (squee!).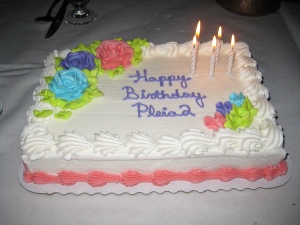 I had a great time and the food was delicious. It's awesome to have such great friends :)
And finally, on Thursday night I went out with Michael to see the encore presentation of RiffTrax Live, where they riffed Plan 9 from Outer Space. I'm sure actually seeing in live back in August would have been more exciting, but this encore presentation was a lot of fun too, especially getting all wound up all day over it via tweets by the RiffTrax crew.