I'm all geared up for the Karmic release, and luckily my scheduled worked out so that it's possible to attend two release parties, in two different states!
First is the one at my beloved Ubuntu Pennsylvania Team on Halloween. Karmic! Costumes! Cake! Should be a lot of fun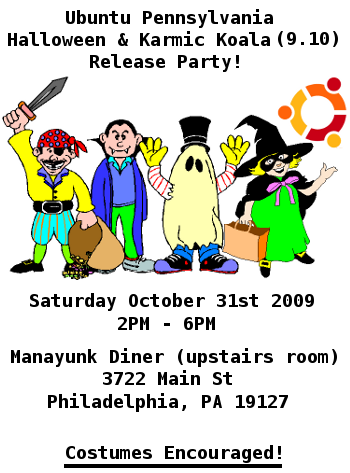 More information about the event is on the wiki: https://wiki.ubuntu.com/PennsylvaniaTeam/EventsTeam/PhillyKarmicRelease
While speaking of the Pennsylvania Team, it looks like there might be one held in Pittsburgh too.
The second release party is up in Waterloo, New York. It's about six hours from here, so while out at a conference planning meeting last week I mentioned that I wanted someone to join me and my friend Crissi was interested. So we'll be driving up the morning of Saturday November 7th, spending a night at Hotel Clarence in Seneca Falls, catching some drinks with some of the NY folks who are in town, then attending their release party on the afternoon of the 8th before driving back to Pennsylvania.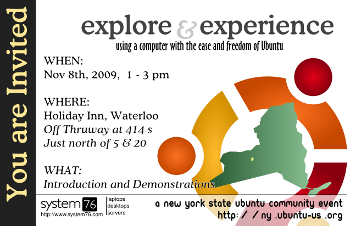 I've been wanting to meet the New York folks for a while now, but as an interesting aside I used to live in Seneca Falls. It will be quite the adventure to lurk around the old stomping grounds again and hopefully meet up with some folks I've lost contact with (assuming I can get back into contact!).