As I've mentioned in some other posts, I've been trying to hit the major tourist destinations in the Philly area before my move. Last weekend the Rodin Museum was at the top of my list, but then when I popped into the #plug channel waltman suggested I check out the Italian Market in south Philly. So I did!
I had been to Pat's and Geno's before, went for the first time a little over a year ago with MJ, but we didn't actually venture down 9th street to the market.
I was given a list by waltman: "cheese — dibruno's, claudio's. bread — sarcones, Anthony's has good coffee" and I followed it! Picked up some delicious cheeses and pepperoni from DiBruno Bros, where I saw this great sign out front: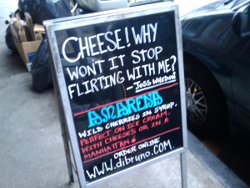 The bread from Sarcone's Bakery was delicious with said cheese, and the coffee from Anthony's was great on that chilly day while I walked down the street shopping for some fruits and vegetables. On Monday evening I even made pizza from my Italian Market ingredients!
I then met up with my friend Mike who came out from New Jersey for lunch at Potbelly Sandwich Shop on City Ave. Then it was off to the museum!
What actually prompted my visit was learning that one of ten casts of The Thinker in the US was there, and I wanted to see it.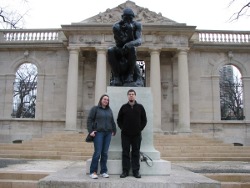 Voila! It turns out there is one in San Francisco too, so I'll have to visit it once I'm out there! We then ventured into the museum itself, past an empty fountain (the courtyard probably looks much nicer in the summer!) and then past The Gates of Hell.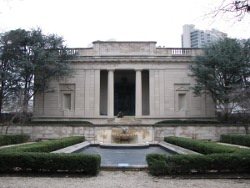 Rodin Museum entrance, photo by Mike Edwards
I have to be honest, while Rodin certainly made a lot of beautiful pieces, my favorites are the ones which are most life like. Much of the abstract or "rough" pieces he did held no interest for me.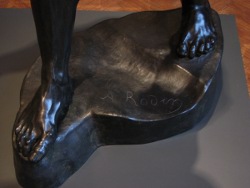 Saint John the Baptist Preaching base, photo by Mike Edwards
I will say though that for some reason I was completely captivated by his piece, The Hand of God, I might have to pick up a miniature cast of it at some point.
Since the museum ended up being a small one and we had the rest of the afternoon in front of us we then wandered up the Benjamin Franklin Parkway to spend a bit of time at the Philadelphia Museum of Art.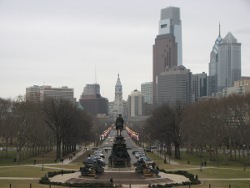 View of Ben Franklin Parkway from steps of the Art Muesum, photo by Mike Edwards
I had seen about 2/3rds of the museum, this trip I ended up wandering around the second floor through the European Art 1500-1850 section. There is a lot of literal and religious art (both Christian and Roman) in this period and it's some of my favorite. But since this is sculpture day, the following are two of my favorite pieces in that wing of the museum.
Bust of Benjamin Franklin (1706-1790), Jean-Antoine Houdon, French, photo by Mike Edwards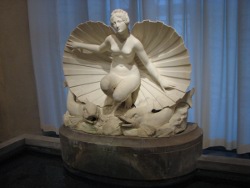 The Birth of Venus, c. 1799, Heinrich Keller, Swiss, photo by Mike Edwards
We ended up staying until the museum closed at 5 and I headed home before it starting raining too much.
Tomorrow I'm planning on going to Adventure Aquarium in Camden, which I've never been to. Then heading over to Old City Philly to find some early dinner. Hooray Philadelphia adventures!
Just over 2 more weeks until the move, my apartment is full of boxes.