On Monday the 11th The Ubuntu Community Learning Project (UCLP) held a meeting to review our progress through and since the holidays.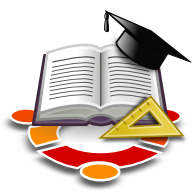 The UCLP is attempting to make professional education course materials, because we believe that education is one of the biggest barriers to getting new users and increasing existing users abilities.
We are working to develop course material in 5 different segments, How to Use, Maintain, Develop, Spread and Teach Ubuntu. This material is structured in the form of classes that can be taught in real life classrooms, on IRC and/or via our Moodle site.
The team decided upon the licensing (CC:BY-SA) and to formally use AsciiDoc for core material (for rationale, see Martin Owens' blog post: Document Formats for Learning Materials) and Nigel Babu has been working hard with the team to develop documentation for this. We now have a documented Course Layout for in-classroom classes and Charles Profitt has been working on the Moodle side for online learning.
So many avenues to explore! How do you contribute? First, Join the Team by swinging by to have a talk to us in #ubuntu-learning or engage us on the Ubuntu Community Learning Project mailing list (you're also welcome to email me directly at lyz@ubuntu.com, please do!). We currently have people writing courses in .odt, on the wiki, in bzr using AsciiDoc and in Moodle, so there are a number of ways to get involved now. We also need folks who are interestied in doing peer review of the classes. Other tasks are outlined here.
Ready to write? Here's the quick FAQ I tossed together based on the most popular questions that come up in channel.
How do I select/sign up for a topic to write about?
What is the layout I should follow?

See Course Layout

Where do I submit what I've written, what is the development workflow?
We're still in the process of completing full documentation for our asciidoc+bzr procedure for contributions (I'm in the middle of writing my first class!) so if you have any questions, please ask us.
How do you take advantage of the materials we've created thus far? Martin Owens has already written several sysadmin classes:
Currently being developed and reviewed:
Using Launchpad by Duane Hinnen
Contributing to UCLP with Bazaar and AsciiDoc by Nigel Babu
You are also welcome to visit our Moodle site, where Charles Profitt has imported some courses and we're actively developing others. And if you're an educator, be sure to check out Charles Profitt's Ubuntu Educators Ning Network.