A year and a half ago I put together a system built with some pieces I purchased from the Trenton Computer Festival. It was a server though, pretty loud, very heavy, and the hardware was a couple years old when I bought it so became out of date pretty quickly, and the Xeons were too old to have virtualization. When I decided to move I also decided to replace it and have the parts delivered here in SF.
Yesterday I put together the new machine.
Specs:
Intel Core i7-860 Lynnfield 2.8GHz 8MB L3 Cache LGA 1156 95W Quad-Core Processor
GIGABYTE GA-P55M-UD2 LGA 1156 Intel P55 Micro ATX Intel Motherboard
2 x OCZ Platinum 4GB (2 x 2GB) 240-Pin DDR3 SDRAM DDR3 1333 (PC3 10666) Desktop Memory Model OCZ3P1333LV4GK (so, 8G total)
500G EIDE harddrive (from old desktop)
1T SATA harddrive (from old desktop)
ATI Radeon X1550 (from old desktop)
Pretty sweet, right? I'm excited about the new specs, but I'm also excited about the case: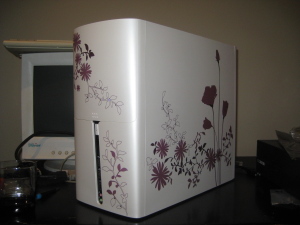 It's the In Win Allure case, with light purple flowers and Swarovski crystals! I felt a bit silly spending over $100 on a case that doesn't come with a PSU, but I really couldn't resist after seeing how gorgeous it was.
I put it together on Thursday and tossed in a couple harddrives from my old machine. Unfortunately I was running 32-bit Ubuntu on that old machine so it looks like I'll be reinstalling with 64-bit probably next weekend so I can actually use that 8G of RAM and I'll be swapping out my 500G EIDE with a 500G SATA I have.