The Ubuntu Global Jam at BerkeleyLUG was a lot of fun! MJ and I arrived around noon and ordered some pizza (I think I found my good pizza in California, why does it have to be all the way over in Berkeley?).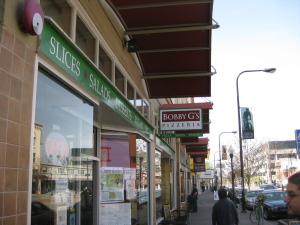 First on the agenda at the event was working on a tri-fold brochure, which Jack started a thread on the list for. We got a lot of great feedback from participants at the event, on the mailing list and on IRC.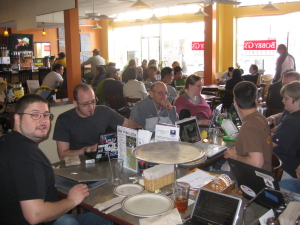 We ended up having about 15 people attend, all told, and it was excellent to finally meet a number of people in the area who I'd only really been exposed to via mailing lists and other online mediums, including Jack Deslippe of BerkeleyLUG, Michael Paoli of BALUG, Miia Ranta of Ubuntu fame who came all the way here from Finland to attend our jam (ok, maybe she is in the area for other reasons too). Plus I got to catch up with Jono Bacon who popped in unexpectedly, Grant Bowman (the main day's speaker!) and Mark Terranova of Gidget Kitchen (who brought me some fresh and dried herbs – thanks again, Mark! And had visions of a bay area Geeknic dancing in his head).
Around 1:45 our focus shifted to an interactive presentation by Grant where he discussed bugs in Ubuntu by walking everyone through some bug resources he gathered here. His presentation was great and the questions and discussions that followed about workflow (plus some info about the development of the processes from Jono) was fantastic.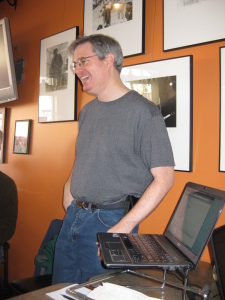 Following Grant's presentation I did a short run through the official Ubuntu documentation resources available with an accompanying handout.
In all, a very fun day! Thanks to everyone who joined us and made it possible!