Two days after I left Pennsylvania the Ubuntu Pennsylvania Team helped Bryan Behrenshausen of Millersville University host a successful Open Options: Remix Computing with Open Source Software event at the University, details and photos are over on the team blog: Millersville University Open Options Event – Success! It was a delight working with Bryan during planning and I was sorry to be unable to attend due to my moving schedule.
I was fortunate enough to move from the state of one approved LoCo to another, now living in the golden state of California I've joined the Ubuntu California Team! I've also joined a few local LUGs, including BerkeleyLUG, which is a quick train ride across (under!) the bay from where I live. So when Jack Deslippe announced the planning of an Ubuntu Global Jam at Berkeley LUG I hopped on board.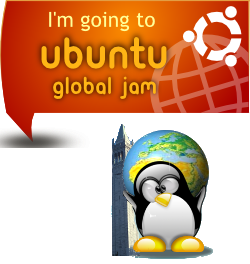 Date: Sunday, March 28
Time: 12:00-3:00
Location: Bobby G's Pizzeria, 2072 University Ave, Berkeley, California
Agenda:
Grant Bowman will be demoing the Launchpad Ubuntu bug reporting, following and triaging process. This is a great way for new Ubuntu (and Linux) users to help improve the Ubuntu OS. Bring some bugs you have to report or follow up on.
Elizabeth Krumbach will be giving an introduction on "Ubuntu Documentation – Finding it, Using it & Contributing to it"
We will be working on the "I've just install Ubuntu, what do I do now?" tri-fold (download current version here)
The folks at ZaReason will be stopping by to show off Ubuntu running on some of their great machines.
There will be plenty of people around to share cool projects with, help with any Linux related problems you are having and to do installs.
For more, and to RSVP by email, check out the details on the BerkelyLUG site: http://www.berkeleylug.com/?page_id=67
If you have a launchpad ID, you can register for the event in the shiny new LoCo Directory here: http://loco.ubuntu.com/events/team/41/detail/