During the past year I have watched the Ubuntu Women Project go from a small corner of the Ubuntu project to a respected, active and successful project. This is in no small part due to the efforts of Melissa Draper, Laura Czajkowski, Penelope Stowe, Mackenzie Morgan and the current project leader, Amber Graner.
One of the really exciting things we've seen is more press about the project within the community and beyond. Melissa's imagination and enthusiasm regarding contests and marketing material has really turned a page for the team and her ability to reach an audience with her blog was indispensable for the success of the International Women's Day Competition that she came up with. Amber's ability to promote the project via her connections in the open source community has led to her being interviewed on FLOSS Weekly: FLOSS Weekly 114: Ada Lovelace Day where she discussed the project, and through her ties with Ubuntu User Magazine she was able to write an article for the magazine about the project: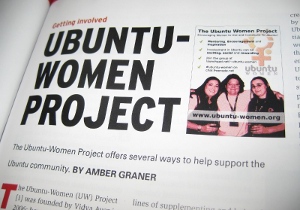 So be sure to pick up a copy of Ubuntu User Issue 4 to read about us! I picked up my copy at Borders this evening.
Oh and that photo? Taken at UDS Lucid of Laura, Amber and myself, made into that graphic (well, poster) by Melissa. Well done, ladies!