Last month Melissa Draper announced the Ubuntu Women World Play Day Competition.
"A pivotal issue within computing cultures of today is the overemphasis on boys and men as the primary consumers of technology. Children learn by example and since the majority of media images consist of boys playing computer type games and girls playing with stereotypical princess type dolls; this contributes to the lack of involvement in science and technology by our young women.

It hurts us all to have this subconscious of pigeonholing of our children, and to help counter this for Ubuntu's community, we would love to have a collection of examples of young girls (toddlers through to 12 years old) playing with — and loving, and being encouraged to pursue — Ubuntu. This would allow parents of girls to demonstrate that it really is ok to be intrigued by the shiny screens, blinking lights, tappity-tap of keyboards, and faint whirs of computer fans."
I'm pretty excited about this competition, a picture is worth a thousand words! Plus the team is offering three exciting prizes donated by companies sponsoring the project and contest, Melissa discusses the prizes in a recent blog post:
This means that the competition can now offer 3 prizes! Not only that, after contacting Canonical CEO Jane Silber, we can confirm that she would be honoured to choose the second netbook prize!

The prizes are now as follows:

Community Choice: A Terra A20 netbook with Ubuntu 10.04 LTS

Jane's Choice: A Dell 10n with Ubuntu Moblin Remix

Random Draw: A prize pack of random goodies from The Ubuntu Shop and a gold USB necklace from ZaReason

All winning entries also come with a subscription to their choice of either Ubuntu User Magazine or Linux Pro Magazine.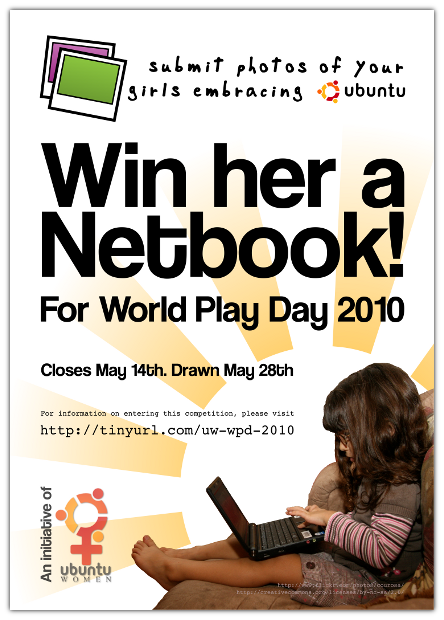 We now have only a week left for submissions, so if you didn't know about it and wish to submit a picture, now is your chance!
The team has developed 4 easy steps:
1. Take Photos!

Take a photo of your girl (toddler-12yrs) using Ubuntu/Kubuntu/etc!

Natural candid photos are best.

(Photos you already have are also ok!)

We are collecting these because we are dealing with photos of children.

Print the form out fill it in, and sign it.

Then either scan or take a clear photo of it.

3. Email us!

Attach both photo(s) and a signed form to an email.

Send the email to ubuntuwomen.competition@gmail.com before 2359UTC May 14th.

4. Wait for voting!

Voting will open on or after May 15th, announcement will be made on May 28th.
Good luck everyone! We've had some great submissions so far and I'm really looking forward to seeing more come in.
While I'm on the topic of Ubuntu Women, if you want an update on all the work the project is doing check out the logs (and slides!) Amber Graner's great Ubuntu Open Week Session on the Ubuntu Women project.