Last day of UDS!
– Community Roundtable –
It was discussed that the LoCo Council will be formally deprecating the unmaintainable LoCo Team List wiki page in favor of loco directory. We also did some reviewing of good sessions throughout the week.
The Ubuntu Women team has a full RoadMap for the future over on the wiki: http://wiki.ubuntu-women.org/Roadmap-M but in this session we focused on three major places:
Mentoring Program: We'll be rewriting our documentation to reflect the real program as it stands now, and working to reference existing programs within the community that we can point women to who want to get involved. Penelope Stowe will be leading up the effort to rewrite this documentation and I volunteered to be the primary reviewer.
Redesign Logo: Vish is the driver for this one, working to make a new logo which is consistent with the Ubuntu branding guidelines (even if I am still quite fond of our current logo! Times change…).
Redesign Ubuntu-Women.org website: I'm leading up this project, handling most of the logistics and defining what portions of the site need to be worked on and Melissa Draper will be looking into the design direction. In the coming weeks I'll also be moving much of the static content to the wiki.
I suspect we'll tackle more of the goals in this cycle, but with the Leadership Election coming up and an evaluation of the success of our new IRC channel infrastructure we wanted to have really attainable goals.
– Unity design –
In this Unity session they discussed some common netbook problems, drag and drop is tricky, so are complex mouse gestures, single click launching is not great for netbooks since accidental clicking happens frequently for most users, but single click launching does make sense for touchscreens. The work to develop a theme that works well on both netbooks and touchscreen devices is a more complicated problem than I had anticipated as intuitively I think "they're both small screens" but in reality there are differences in usage, including things like behavior of window "edges" and other expectations.
It was then off to lunch, followed by Lightning talks. There were several great little talks, but I particularly enjoyed learning about the the Chamilo E-Learning and Collaboration Software, which they claim isn't a competitor to Moodle but does look like it is. Will be interesting to check out. I also enjoyed watching the presentation by Chris Johnston on ClassBot, which we tossed the slides together for just a couple hours prior to the presentation. I've been involved with Classroom for several years now, and ClassBot really marks a nice advance in how we handle sessions with all it's automatic handling of things, it also gave us an opportunity to ask for folks to host classes in #ubuntu-classroom
– Community Team Process Improvements –
This session focused on consolidating the wide variety of community building documenation into a generic pool. Currently there multiple wiki pages which are similar and information is a quite spread out, making it challenging for teams to find the right, good documentation. I think this ties in well with the LoCo initiative to tie together best practices documentation, indeed, LoCo Council member Laura Czajkowski has volunteered for a number of action items on both projects.
– Ubuntu News Team –
Joey Stanford and Amber Graner lead this session to discuss some lingering issues with the structure of the news team and the future, including their current status of the 4 launchpad teams currently set up for the team. I found this session to be primarily valueable because it really gave me a clear look at the history, goals and intents of both the Ubuntu Weekly News and Fridge Editors teams (the latter of which I'm a contributing member of) and they were able to make decisions and look to what needed to be discussed within the community.
The day wrapped up with a presentation by Robbie Williamson of Canonical on the release schedule to meet Mark's proposal of releasing on 10-10-10, he outlines this in a blog post: A Case for Modifying the Ubuntu Release Schedule. Then the team leads for each session gave some wrap-up information, including that they'll be shooting for a 2.6.35 kernel and that they're planning on moving to just i686 for 32bit (so, dropping i386-i586) for Maverick so they can take advantage of i686 optimizations, yay!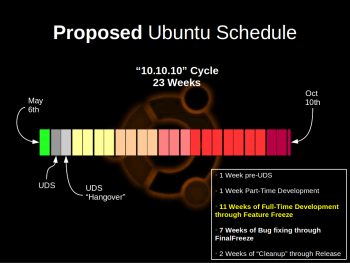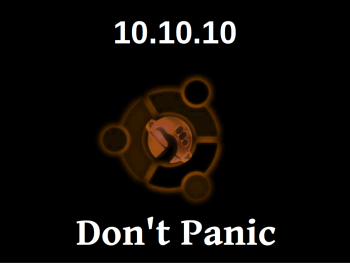 Once this wrapped up it was on to dinner and Allstars. I spent much of the evening outside chatting with people (sun sets so late there!) and enjoying the cool air, I was able to get to bed by 12:30 so I could be up for my flight the next morning.
Saturday it was finally sunny out, but we had to fly home! My flight was delayed by a couple hours which didn't seem like a problem at the time since I naively thought that since my flight had the same number all along in spite of stopping in Chicago that the second portion of the flight would wait for the first – not so! The ash delay in Brussels caused me to miss my connection in Chicago so they booked me on a flight the following morning. Luckily they let me try to fly standby on a couple of overbooked flights that evening and I managed to catch a 5:30PM flight out of Chicago, phew! Good thing too, since I had already re-checked my bag after customs.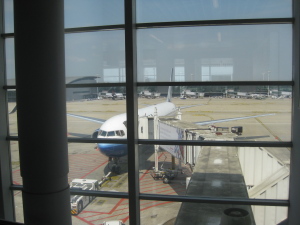 I finally got in to SFO around 8PM and MJ greeted me at the airport with flowers! My checked bag had fortunately (somewhat miraculously) made it on the same plane as me so I was able to get home pretty quickly, order some Chinese and finally relax after the fantastic whirlwind that was UDS!