On Sunday I had the pleasure of attending my first Women who like beer Meetup over at the Rogue Public Ale House in San Francisco. As I previously posted, this was for a Socola Gourmet Chocolatier and Rogue Ales Beer Pairing! I left shortly after 1PM and caught some of the Gay Pride parade on Market on my way to catch a bus over to Rogue – which turned out taking slightly longer than expected due to crowds and rerouted buses around Market.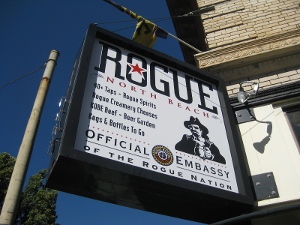 Upon arrival I was greeted by the organizer, femALEist blog author, Tiila and handed a sample glass of Morimoto Black Obi Soba ale and an 8 page tasting guide (which I'll get back to) and was invited to find a spot anywhere in the reserved room for the event. Within just a couple minutes I was sitting and chatting with a whole table of women who shared my passion for beer – wow! I've never actually been short of female friends who loved good beer (Hello Karen! Hello Constance!), but it was expressed repeatedly throughout the event how we tended to get bored of beer events marketed toward and primarily attended by men, and how thankful we were to have such a gathering where we really could connect with each other. I met others who had been home-brewing, was able to share my stories about growing hops in my back yard and share stories about how after we'd been introduced to beer by a male partner, then surpassing our partners' beer geekery. We also got to swap some tips about local beer bars, which I'll take advantage of once I figure out the cryptography I chose to employ when taking notes while we were talking (I fear my handwriting skills have steadily declined, I guess I only write neatly when I take my time). But enough of that, I am here to talk about the beer! As we were waiting we were each treated to a second sample of the Morimoto Black Obi Soba, yum.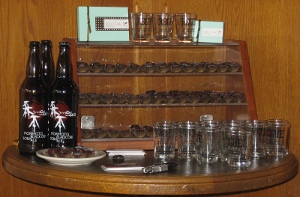 So first off, beer and chocolate?! Indeedy. Rogue doesn't make your typical American macrobrewed lager and Socola's little hand-made chocolate truffles have a heafty price tag of $2 each, these are some serious foods. Now, just as one may pair cheese and wine, pairing good beer and good chocolate is A Thing. The complexities in a fine beer can really complement those in a really good chocolate truffle. This is the part where I talk about the 8 page tasting guide that Tiila put together. It starts off with a page of history about women and beer, explaining how throughout history brewing was a trade primarily praticed by women, and boldly declaring that women must take back the pint! (t-shirts, anyone?). The second page discusses the art of beer and chocolate pairing and then talks about Rogue and Socola and quickly reviews the 5 components to tasting beer (look, smell, taste, feel and drinkability). The rest of the handout goes into details about each beer and truffle we were served, and leaves a place to take notes! I wasn't shy to pull out my camera and document this beer geekery, it was so much fun, and now since I had such a handy way of taking notes I can share them with the internet!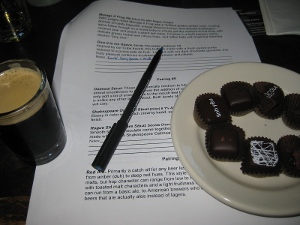 Pairing #1:
Beer: Morimoto Black Obi Soba Ale, 4.8% ABV, fruit/vegetable style ale
Chocolate: Morimoto Black Obi Soba Ale with Black Sesame
Notes: Thick beer, chocolate was smooth with sesame pieces inside, good pairing
Pairing #2:
Beer: Oregasmic Ale, 6% ABV, American Pale Ale
Chocolate: Notorious H.O.G.
Notes: There is bacon flavor in this truffle, and bacon pieces! Nice hoppy pale, paired great with the salty truffle. Yum!
Pairing #3:
Beer: 200 Meter Ale, American IPA
Chocolate: Jasmine Tea
Notes: The truffle seriously tastes just like sweet jasmine tea, the beer seemed lighter than the American… but it could have been that the truffle was doing a fantastic job of taking the edge off the ale.
Pairing #4:
Beer: Menage A Frog Ale, 9% ABV, Tripel
Chocolate: Give it to me Guava
Notes: Nice, sweet, mild triple, paired amazingly with the gooey guava of the truffle. I think this pairing was my favorite of the whole day.
Pairing #5:
Beer: Shakespeare Oatmeal Stout, 6.1% ABV, Oatmeal Stout
Chocolate: Rogue Shakespeare Stout
Notes: Stouts aren't really my thing, so the best way to describe it was mild like a Guinness with some stronger smoke/coffee flavor. The truffle was probably the lightest one of the day, the stout mixed with the chocolate doing an amazing job of smoothing it out. The pairing was predictably great.
Pairing #6:
Beer: XS Imperial Red, 9% ABV, Red Ale
Chocolate: Burnt Baby Burnt
Notes: I tend to avoid red ales simply because I've found many of them to be a bit boring, but an Imperial? Now you have my attention! This was probably the best beer calling itself a red ale that I've ever had. The truffle was smooth and slightly salty.
Pairing #7:
Beer: Alesmith Brewing Co (not Rogue!) Mogul Madness Ale, 8.5% ABV, Winter Warmer
Chocolate: Wednesday Morning
Notes: I have to admit, since we had two tasters of the first beer this was actually my 9th sample my notes on this and the last pairing are pretty useless! For this one I simply wrote "fruity truffle, warm beer". Beer good! Chocolate good! Fire bad! Oh dear me :)
Pairing #8:
Beer: Double Mocha Porter, 8.2% ABV, American Porter
Chocolate: Vietamese Coffee
Notes: I managed to write "strong coffeish beer, coffee truffle" – well done Lyz! Both were good, and while I don't tend to be a porter person I really liked that the tasting wrapped up with these coffee flavors.
So, my favorites? Predictably the Pale Ales and the Triple, so I was very happy when I learned that we'd each get to take home a 22oz bottle of the Oregasmic Ale. I also took a dozen chocolate truffles home, yum.
I've been to dozens of beer events, but I have to say that this one easily ranked in the top 10. It was well-organized, I didn't feel even remotely odd for being a note-taking beer geek, great company, great atmosphere, I really can't think of anything that could have been improved upon. I'll certainly be attending more!