On Saturday MJ and I packed up our picnic goodies and headed down to Los Gatos (no, I didn't bring my cats or my NetFlix DVDs) to Vasona Lake County Park for the second Bay Area Geeknic.
This was a smaller geeknic than the first, but we had the essential ingredients for a great day.
Good people!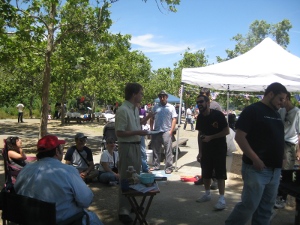 Good food!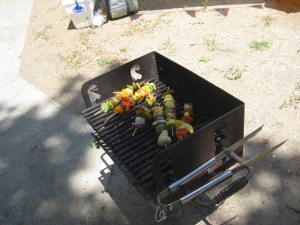 And beautiful weather! But it's California, so was there any question about that? I also remembered to wear sunblock! Thanks again to the folks at Gidget Kitchen for working so hard to make it happen.
Last night I hosted the first Ubuntu Hour in San Francisco. I made it easy on myself and we had it at The Roastery, which is very close. Place and timing worked out better than I could have planned, since our event was 6-7PM and the SF MySQL Meetup just the next street over at 7PM! Most of our attendees from the Hour ended up heading over there after.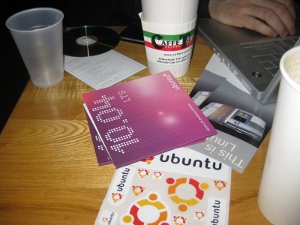 I'm very happy with this inaugural Hour, 5 of us attended ad we even got 64-bit 10.04 installed on a MacBook (and by "got installed" I mean we chatted while the installer chugged away, and then offered tips about how he could get wifi going at home). Currently I'm planning on having it once a month (4th Tuesday) but I'll consider making it more often, especially since it's so easy for me to host.