Last year I blogged about pink wiimotes, but they were just regular wiimotes with pink covers on them.
Now? Thanks to the sharp eye and generosity of Mackenzie Morgan I have an actual pink wiimote!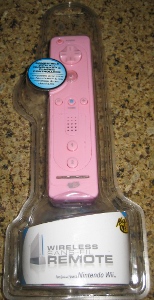 Thanks for such a thoughtful gift Mackenzie! And also thanks to Mark Terranova for getting it to me, all the way from SELF.