On Sunday MJ and I spent the day at Noisebridge for the Ubuntu California Lucid Installfest. Unfortunately our scheduling ended up to coincide with Carnaval San Francisco 2010, but aside from traffic woes in the area it made for some lively entertainment outside and quite the view for attendees.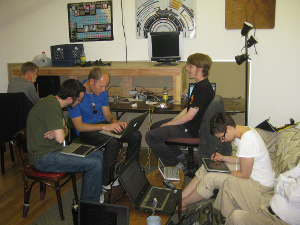 Leif Ryge was our gracious Noisebridge host for this event and spent a lot of time helping to debug issues and putting iso images on flash drives as needed. Thanks also our other volunteers, Grant Bowman, who brought a whole pile of 10.04 CDs, Jesse Zbikowski, Michael Paoli and several others who were eager to jump in and help with installs. Thanks also to Christian Einfeldt who has been working with Al Stoll, a local attorney who has been using Ubuntu and provided pizza and drinks for the event and has offered to also print up CDs for the team, Christian took the time to organize the actual delivery of the pizza (which was no easy task with the Carnival happening outside!).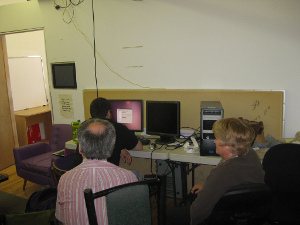 The event ended up having over 20 people, all told. We did 6 Ubuntu installs, and 1 Debian on an old PPC Mac and did some serious debugging of two other machines which were having problems, one of which ended up being a failing harddrive causing filesystem corruption that made Ubuntu 8.10 "act funny" and cause her to bring her machine in to us, and the caused a reinstall to fail completely with I/O errors. I ended up installing Ubuntu on my old Compaq Pentium 3 with only 384M of RAM, I won't be watching flash or doing lots of photo editing, but it's a really decent experience in general.
I think the most noteworthy of the installs was one which had a RAM problem. The woman who brought the machine explained the problems she was encountering when trying to install 64-bit Ubuntu, and the problems were duplicated by our volunteers. Early on RAM was ruled out after memtest passed, but by the end of the day there was a matrix on the white board of her 4G of ram being swapped around the 4 slots. The result? The 4th RAM slot on the board was bad, she was able to head home with a fully functioning 10.04 install of 64-bit Ubuntu and a computer which was much happier overall now that the 4th slot was empty.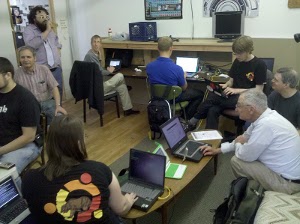 Photo by Christian Einfeldt, CC-BY-SA, originally published in his Picasa gallery: Linux: Lucid Lynx Installfest 5-30-10
A few more photos can be found over on my flickr account:
Ubuntu California Lucid Installfest May 2010
It really ended up being quite a fun event, even if we ended up running a couple of hours over. As always it was also a pleasure to meet more people using Ubuntu and learning what they use it for. It's really not just for geeks anymore, almost all the folks bringing in systems had expertise in fields outside of technology and were using Ubuntu for reasons like openness, flexibility and the reason we always hear: tired of dealing with security hassles (worms, viruses, etc) on Windows.