While I was down at Noisebridge for their weekly Linux Discussion meeting this week I met another local sysadmin who ended up having some great tips as far as beer in the city. That night I took advantage of one of his tips and MJ and I hopped on a bus down to La Trappe Cafe.
In case I haven't mentioned it enough in the past, I love Belgian beer, it was my first love as far as beer is concerned. In Philadelphia I loved Monk's Cafe, adored Eulogy Belgian Tavern, still have dreams about the cheesesteak I had at The Abbaye and was quite disappointed when I learned that ZoT closed down (their frites were a-ma-zing!). And getting to go to Brussels and spend two fantastic evenings at Delirium Cafe? Heaven.
But San Francisco? Where are the Belgian beers? A Belgian cafe? Indeed!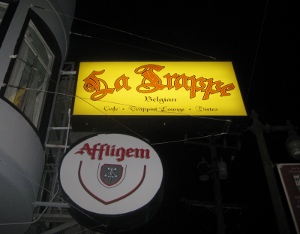 First up was tap beers! They have 19 taps and had the Gentse Tripel on tap which I'd never tried before, so I started there. It was quite sweet and strong, a nice a nice example of a Belgian Tripel. I also had a few sips of the St Louis Premium Peche, which is quite sweet compared to the lambics I tend to enjoy, but the peach was enough to take some of the sweet edge off and make it drinkable for me.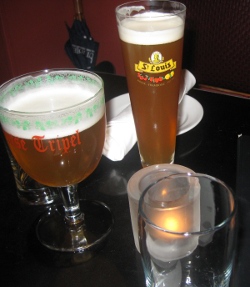 We enjoyed a nice cheese plate, going with a soft french cheese and a nice old gouda, yum!
I then hit the bottle list, which has over 400 beers, and selected the Ichtegem's Grand Cru. It's a lovely Flemish red, I'll probably order more of these in the future!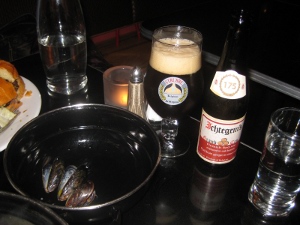 And the food? What's a good Belgian beer without some mussels and frites! Well… it's still a good Belgian beer, but it's just not the same. Plus I was pretty disappointed at running out of time in Brussels and never getting my mussels and frites there, so it had been a while.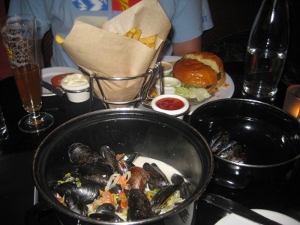 I went with the mussels with the "Creamy Pastis" described as Tomato, leek and fennel in a light pastis cream sauce, which was quite good. And they make their own mayonnaise for the frites! So I got the ketchup (boring, I know!) and a delicious garlic mayonnaise, but I also quite enjoyed the wasabi mayo that MJ got with his frites.
I also have to check out Monk's Kettle and City Beer Store which were also mentioned at the meeting on Wednesday.