We bought a couple of in-building storage units a few months back, got them primed in May and did the painting in June and some final touch-ups in July. But eventually we were ready to move everything from our rental storage unit down the street to the ones we have here!
Last weekend we rented a truck and did the move. The main challenge of this move was finding a truck that would fit in the garage while also being large enough to fit the wardrobes we were moving, the answer ended up being a Ford F-450 stake truck, coming in just under 7 feet tall.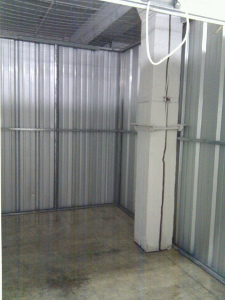 Rented storage unit – EMPTY!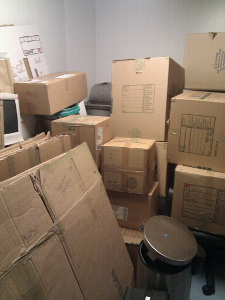 One of the two big owned storage unit – FULL! The other one is quite full too.
Sunday evening we went out to celebrate the completion of the storage migration by heading down to the San Francisco Rogue Ales Public House. It also turned out to be the first day of Shark Week, and Rogue was up for celebrating.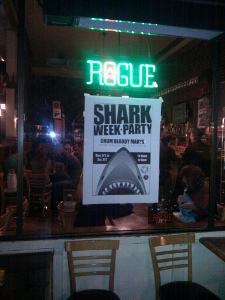 As far as beers go, I started off with the Rogue Imperial IPA, which packs quite the ABV punch.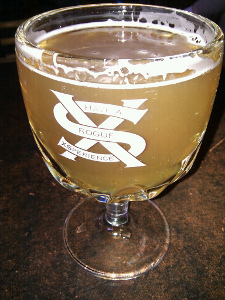 With my Brutal Reuben (Corned beef simmered in Brutal Bitter beer topped with Swiss cheese, Shakespeare Stout sauerkraut and 1000 Island dressing served on marbled rye bread) I enjoyed the Rogue 200 Meter Ale.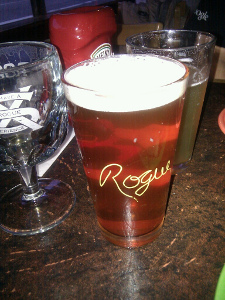 After dinner we headed over to Z. Cioccolato for some fudge before walking home.
Tuesday I made dinner plans with Silvia Bindelli and her fiance Claudio Criscione who were in the US traveling and decided to spend a few days in San Francisco. I met Silvia through Ubuntu Women, which she's been a member of for several years, and most recently has joined the Ubuntu Women translator team to work on Italian translations of our wiki. We met up at Pier 39.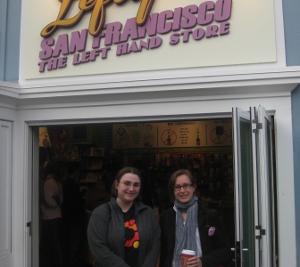 Silvia and me, outside of a store at Pier 39
I have to admit not being the best tour guide yet, having only been here 6 months myself, I will certainly have to keep studying tour guides and having my own local adventures. However, I did know a couple of things about traditionally San Francisco-y things, and was happy to oblige when they asked for suggestions. We ended up having dinner at Bistro Boudin at the wharf for a delightful dinner of local beers and famous sour dough bread bowl clam chowder. After dinner it was a brisk walk over to Ghirardelli Square for some ice cream sundaes. It was a real pleasure meeting both of them, and once again drove home the fantastic power of the Ubuntu community – go to any major city in the world and there will be Ubuntu community members there to greet you with a hug and a tour.
So, what's the adventure for this weekend? We're actually going to spend much of it at home sorting through some things post-storage-migration, but on my schedule for tomorrow or Sunday is taking an XO I borrowed from Sameer Verma on a photo shoot to try and get some neat XO-OLPC-in-San-Francisco promotional photos for an SF-OLPC Community Summit I'm helping plan in the fall. We'll see how taking photos go, I have recently learned that summer in San Francisco means intense fog every day (they tell me it gets warm in Late August – October) which won't be fantastic for picturesque photos of an XO with the Golden Gate, but fog is very San Francisco-y too, right?