One of the schools Partimus has been working with over the years is the Creative Arts Charter School in San Francisco. Today I finally had the opportunity to visit the school.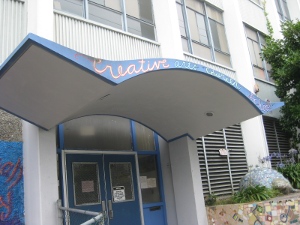 I arrived around 12:30 this afternoon where I met Christian Einfeldt who gave me a quick tour of the school and introduced me to several of the teachers. On our way up to the computer lab we picked up a computer that needed some desktop tweaks applied (a tune up?) to get it ready for school to start tomorrow.
We then headed to the lab where I met Grant Bowman and Chris Mason who were already working on some machines.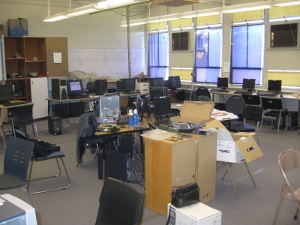 The computers they were already working on were stand-alone installs that are being deployed in some of the classrooms. The computer lab itself is made up of all computers deployed with a fileshare for shared home directories and OpenLDAP for authentication for various levels of users (volunteer admins, school staff, students). The installs are completed via PXE boot server which was put together by one of Partimus' volunteers and has custom images for several versions of Hardy, including stand alone installs and in lab installs, which make installing as simple as booting it from the network and selecting which install you want to do. The infrastructure also permits for automatic updates, which is vital in a lab.
I worked on the tune-up for the classroom computer and then brought it back down to the teacher, who seemed very happy to see it restored to former glory.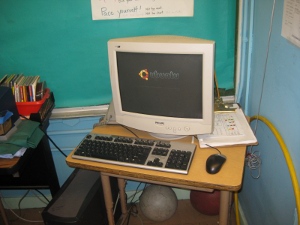 I worked with Chris on installing 4 news systems in one of the classrooms. First we selected some computers from the donated hardware in storage, going with 4 HP Pentium 4s with 1G of RAM each (the minimum specs that Partimus will deploy Ubuntu on are P4 and 512M of RAM). One needed a new harddrive and all four of them needed the video cards swapped out to support standard VGA (they had those wacky LFH connectors that I only managed to identify thanks friends on twitter). Once that was completed and Ubuntu installed, we carried them to the classroom and set up the network.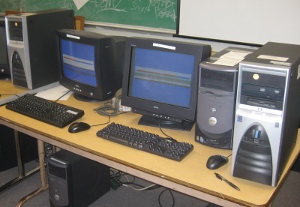 We wrapped up the day by turning on all the computers in the lab and confirming they were all running. One of them had a bad monitor, so we were able to swap it out, but otherwise the Hardy installs where chugging along nicely.
So, why Hardy? The school deployment is done completely by volunteers and the infrastructure was written for Hardy, custom packages for hardy, PXE installer and default packages for Hardy. It'll be upgraded as volunteer time and school schedule permits, but luckily we still have until late next spring before Hardy desktop supports goes away.
While we had all the machines running, I took the opportunity to take a picture of systems in the lab with the Ubuntu login screens!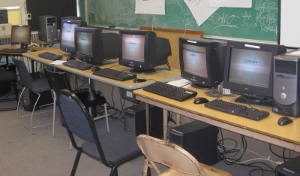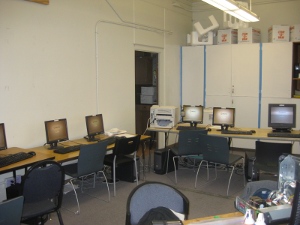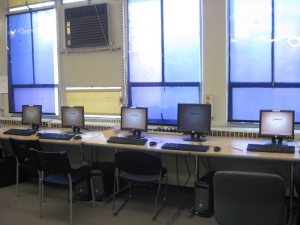 We finished around 6PM. I have to say that it was a really exciting day for me. Grant, Christian and their primary sysadmin, James, have been working on these systems for years, but it was really my first opportunity to see Ubuntu deployed throughout a public school like this.