On Saturday I got up bright and early to catch a 9AM ride with Grant Bowman to the annual Linux Picnic (Picn*x19) as they celebrated the 19th anniversary of the Linux kernel. We arrived on site to help with setup shortly before 10AM. Shortly after arriving Mark Terranova and Robert Wall also showed up and we were able to set up the canopy, Ubuntu California banner and the tables.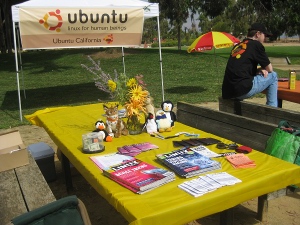 Huge thanks to everyone who helped out, especially Grant for bringing lots of freebies in the form of magazines, and to Mark for his tactful cross-advertising of other cool projects at our tables (Geeknics! Free Geek!) and the beautiful flowers which really added quite the touch to our table, we even had a volunteer who brought Ubuntu cookies she had made!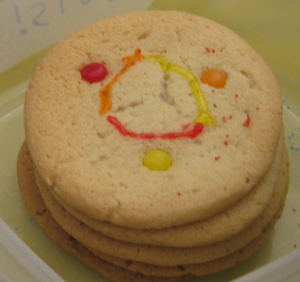 So, what does one do at a Linux Picnic?
Well, there were robots!
And food (meat and veggie)!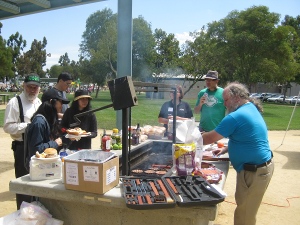 And lots of people to talk to Ubuntu with! We ended up moving the canopy over one of our tables during the afternoon to give us some shade, so we could hop online (wifi for the picnic was graciously provided by the Silicon Valley Wireless Users & Experimenters (SVWUX)) and actually see our computer screens. All afternoon people were dropping by our table with Ubuntu raves (and a couple rants) and to get more information about getting started with Ubuntu and generic release questions (What's an "LTS"?). One of the most interesting conversations I had was with a fellow who swears by Wubi not as a transitory step between Linux and Windows (as it's frequently touted as), but as an real solution for some folks who want the best of both worlds. I was also interviewed about Ubuntu and our setup by a local Amateur Television group that was covering the picnic.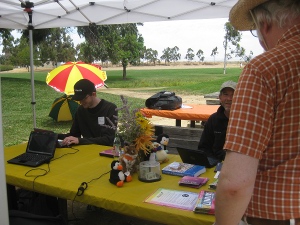 The event organizers did a fantastic job, I was able to meet Ian Kluft early in the day, and got a great photo with coordinator Venkat Venkataraju and his friend Naomi who does event planning for a living and is interested in helping out next year!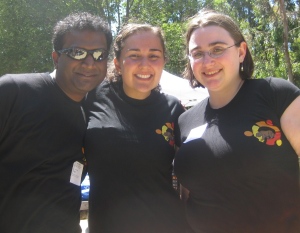 In all, a very successful event for the team and I met some really awesome people.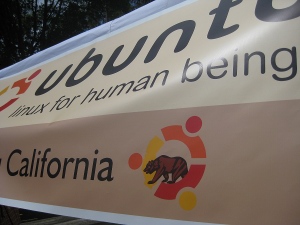 For more photos, check out my flickr album for the event:
http://www.flickr.com/photos/pleia2/sets/72157624782020058/
Mark also posted some here: http://picasaweb.google.com/tuxwingsgroup/LinuxPicnic
I ended up with a sunburn again (I swear, the sun is brighter in California!) but I'm already looking forward to the Linux Picnic next year! Plus we're planning another Geeknic for sometime in September.