Behold, pink laptop earrings!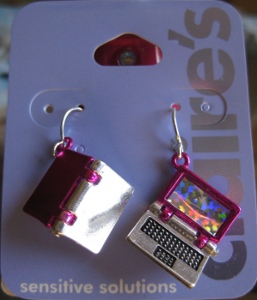 But I can't take credit for finding these goodies, when Melissa was visiting a couple weeks ago she picked up a pair at Claire's at The Westfield Mall in San Francisco, when I saw them I knew I had to snag a pair for myself. I tend to describe Claire's as "that store where all the 12 year olds get their jewelry" but for those of us who like kitsch (and for earrings that match your Ubuntu release codename, yes, those are koala earrings) it's a wealth of fun earrings and accessories, while I was there I also picked up some more penguin earrings.
And while I'm on the subject of pink laptops, Computer Engineer Barbie (complete with her pink laptop!) has gone on pre-sale and is currently scheduled to start shipping on November 24th. I bought mine!