With the exception of my netbook, I have never owned a new laptop. In the recent past I've tinkered with the beloved old Pentium 2 Inspiron 7000 series laptops, of which I ended up with 3 of in varying states of disrepair, and my current laptop is a Pentium 3 Compaq Presario, which primarily runs Debian with fluxbox and I use for testing (most recently drop-kick testing of DRBD and even managed to get Ubuntu 10.04 installed on it for fun, even though it's a bit slow). But none of this helps me when I want to give someone a spiffy Ubuntu demo at an event or for work, so when a work opportunity presented itself where I needed a demo system, I was fortunate enough to be in contact with the folks at ZaReason who were happy to loan me a review and demo version of their Strata Pro 15 with the specs I requested.
I went with all the basic specs you see on the product page, with the exception of going with a 40G SSD drive rather than the 160G standard SATA disk. It came preloaded with Ubuntu 10.10 which I used in this review.
Since I live just 20 minutes from the ZaReason Berkeley office I was able to pick up the laptop myself and have a lovely chat with Cathy Malmrose about ZaReason itself. The company has really done an amazing job of selling Linux laptops and the passion for the business of putting Linux systems in the hands of everyone shines through when you speak with her. They really strive for affordable, high quality hardware that will last and superior support to back up all their products. If you call ZaReason for support with your system you'll be sure to talk to someone who can communicate with you on your level (new to computers, no problem! experienced? they won't make you wait through some useless troubleshooting script), you probably will even be able to speak with the person who built your actual machine.
First Impressions
The CPU is an i3-330M which has virtualization (a must for any systems I buy now, with the exception of netbooks). The 2G of RAM has been more than sufficient and so far the 15.4″ LCD display @ 1366×768 pixels has proven to be nothing short of stunning. The size of the laptop is unusual for me, as I'm so accustom to my netbook which is less than half the size, but I am quite liking the full size keyboard – complete with a number pad, which I love already (I used to do accounting work so I'm a number pad wizard, inputing numbers via the regular number keys when doing budgeting at home is painful so I simply don't do it on my netbook). Number pad aside, I found the keyboard layout to be easy to get used to with no unpleasant surprises and I found it to be a pleasure to type on. I've already made use of the hibernation, sound and image brightness keys, which all work as expected. The single button below the touchpad took some getting used to, you just press one side or the other for left or right click.
Keyboard:
Twice the size of my mini9? Yep!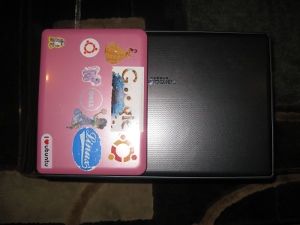 While on the topic of size, the laptop is pretty slim. In a comparison it's actually a tiny bit thicker than the thickest part of my mini9, but my boyfriend's 15 inch Mac Book Pro certainly is slimmer (from top: mini9, macbook pro, strata pro 15):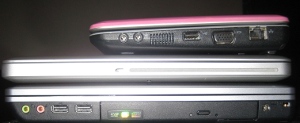 Battery Life: Test 1, standard usage
Now, one of the questions I see raised most often during reviews is battery life, so I figured I'd do a couple tests related to that. My first test had me doing what I feel is pretty typical usage, which includes:
Wifi (WPA) on
Screen brightness all the way up
Always running: Standard Ubuntu Gnome desktop w/ compiz cube, terminal w/ ssh, Google Chrome
Put an SD card into the internal reader and copied over 50 images into ShotWell
Played 10 minutes of a DVD (was doing a trial to see if DVD playback worked)
Standard usage, which on this trial included: chatting on IRC over ssh, tweeting, reading blogs, writing emails in gmail, editing Google Docs, editing Ubuntu Wiki, updating a couple websites
Results: Predictably playing a DVD kills the battery life, but even with that 10 minutes of play and all the rest, I ended up with 2 hours and 45 minutes of battery life.
Battery Life: Test 2, DVD playback
Wifi (WPA) off
Screen brightness all the way up
I decided to go with wifi off in this test because my use case would be something like wanting to watch a movie on an airplane without power or wifi. So, did I get through a movie?
Results: Test it with Raiders of the Lost Ark, at 115 minutes. The battery lasted for 91 minutes. Spinning up of the drive, plus increased power required to handle all the DVD decoding is no doubt to blame here, playing a ripped movie would probably be far more successful. An extra battery may also be a worthy investment if you intend to do this, and ZaReason makes that pretty easy to do when you buy the laptop with an "Extra Battery" drop down on the ordering page.
Conclusions
While I love the number pad, my only major gripe with this laptop is the size. I am accustom to curling up on the couch with my tiny netbook and hacking away, which was tricky with this. I'd probably go with the 13″ if I were to buy one myself. I never quite got used to the single button for the mouse, but given the size and work I ended up being able to do on this laptop I frequently just plugged in my little USB travel mouse. The hardware itself has the solid feel of my old Compaq that I've found lacking in a lot of sub-$1000 laptops I've tried in the recent years.
So, will I buy one (well, the 13″ version) for myself? My daily computing life is spent between my super powerful desktop and my little netbook. My desktop is used for work, virtualized installs, major image manipulation with inkscape and photo editing with the gimp. My netbook works well as a "sit on the couch and IRC + internet + email + minimal hacking" machine, which is much of what I do in my off-work hours. That said, I do have a hole in my computing world which influenced borrowing this laptop in the first place – nothing to really show off Ubuntu on for customers or at Ubuntu events, nothing to burn CDs on at events, and I have to admit that it would be nice to have a second machine with virtualized hardware so my development machines were more portable. We'll see where my needs and budget lead me.
Questions? I should have this laptop for at least another week so if you have questions or want me to take some specific pictures, ask away!