It's hard to believe January is over half over already, it feels like just yesterday that MJ and I were walking home from the NYE fireworks!
Work has been busy, but I've learned a lot in the past couple weeks about debugging problems with multihoming in Linux and how the packets move around with IPSec. I absolutely need to brush up on my networking skills though, so I think we'll take some time in the upcoming weekends (I'm on call next weekend, he's on call the weekend after – lots of time at home!) to teach me more. I was also once again able to take advantage of an extra public IP address and my old laptop to do some internet-facing testing with some of the applications, which reminded me that I need to sort out the problems which remain with my current computer setup. I would really like to have a second virtualization-enabled system and a linux demo and CD-burning system to travel with. I thought about doing this all with a laptop, but while reviewing the great ZaReason laptop I realized that I have a very hard time using a big laptop. Instead I think I'll end up replacing my firewall with something beefier, and just get an external CDRW for my netbook (thanks again to Norm for letting me know how much cheaper they've become!). As for demoing at events? If I don't want to toss the latest and greatest on my netbook booting from USB should be a viable option.
While on the subject of Linux, MJ discovered that, perhaps predictably, our TV (Samsung PN58C8000) uses a Linux kernel. While looking up some model number information for the TV he noticed on one of the screens a line that said "Press Red Key to see Open Source License."
Upon pressing the red key, you learn that there is indeed a lot of familiar software on the TV.
GPL software: Linux Kernel, Busybox, Binutils, wireless_tools, xfsprogs, iptables
LGPL software: Glibc, ffmpeg, smpeg, libgphoto2, libusb, SDL, libiconv, libmms
Plus, a full copy of the GPL that you can scroll through. Very cool, you're doing it right Samsung!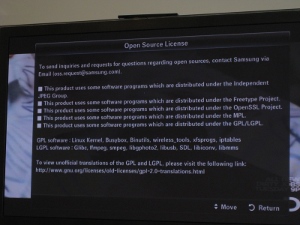 On January 7th I felt my first earthquake: Magnitude 4.1 – NORTHERN CALIFORNIA. Woo nc71506865! I was sitting at my desk and felt a bouncing like someone was stomping down the hallway, but no one was in the hallway – oh! I'm in California, maybe that was an earthquake! So I ran to the window and looked down at the street, where I quickly realized I wasn't sure what I was expecting to see, so I went back to my desk to see in #ubuntu-us-ca:
16:10 < akk> Woo, small earthquake.
And react (with a bit too much enthusiasm):
16:11 < pleia2> OMG!!
16:11 < pleia2> I FELT IT!!!
16:11 < pleia2> my first earthquake :D!!!
Then twitter was… atwitter with everyone else in the bay area talking about it too.
Then on January 11th Nova did a special on Deadliest Earthquakes which was thoroughly scary and made me wonder why we keep building our cities on major fault lines (then I remembered that California is astonishingly beautiful) and made me marvel that there isn't more devastation when a big quake hits.
We brought Caligula and Simcoe to the vet on Saturday the 8th for a checkup. Simcoe got a clean bill of health, but the vet was concerned about Caligula's teeth so she recommended a teeth cleaning and did a panel of blood tests to confirm that he's healthy enough to go under anesthesia for the cleaning. Unfortunately the blood results came back with high levels of some proteins, so we decided to do a more thorough protein levels check to try and confirm that these levels were simply due to inflammation related to dental problems and rule out cancer as a possibility for those levels. Thursday the vet called me with results the, they couldn't rule out cancer so the vet had a meeting with an oncologist Friday morning to review the results. I was pretty worried at this point, giving Caligula lots of hugs and confirming that the pet insurance we have would cover it (it will). Friday the vet called back with good news from the oncologist, the results ruled out certain types of cancer and it's still possible that the elevated levels are due to his teeth problems. So we went ahead and scheduled a series of x-rays of his chest and abdomen for this upcoming Saturday, and planned that if those look good they'll go ahead with the teeth cleaning the same day. Then on Saturday night he stopped eating. Caligula is a big cat and eating is one of his favorite things! When he still hadn't touched his food come Monday morning I scheduled an appointment for that evening. He got his x-rays (look good so far, waiting on a more thorough review) and was sent home with some bland diet food, having been given anti-nausea medicine and antacid. He finally started eating again last night. We had to cancel his teeth-cleaning entirely to wait until his stomach settles down, but hopefully we'll get that sorted in the coming weeks. Assuming all of that goes well, we'll go for some follow-up blood tests in the coming months. What a worrying week! But things are looking positive for my big kitty.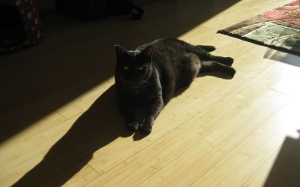 Last Wednesday I hosted another Ubuntu Hour + Bay Area Debian Meeting. The Ubuntu Hour fizzled out on account of the coffee shop closing early, so the 4 of us who showed up just hung out on the sidewalk for 30-45 minutes. We had 7 people come out to the Debian Meeting (dinner) at Henry's Hunan. Lots of good discussion about Debian and Ubuntu and I got to talk about some of my multi-homing adventures of earlier in the week. Photos were taken and my excitement for the upcoming release of Squeeze was captured: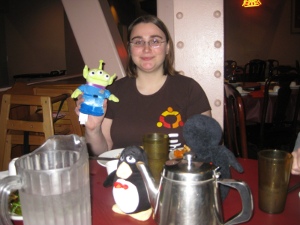 (Which reminds me, they just announced today that they now have a target release date: the weekend of 5th and 6th February!)
Plus, two things of note came out of this meeting. The first was that one of the attendees mentioned that they saw my name in the The Official Ubuntu Book (5th Edition). Really? Neat! So when I got home I had to check, and it indeed was the case: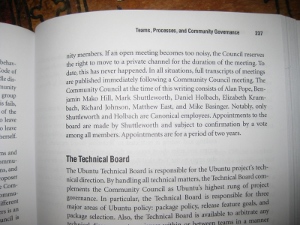 How exciting!
The second was that we had a great discussion about ebooks. I've been on the fence about ebook readers for a long time and when fellow Ubuntu California Team member Robert Wall picked up a Barnes and Noble Nook the other week I asked him for a review, which I got at that Debian dinner. His praise (which included discussion of how useful the Calibre ebook management software in Linux is) tipped the scale for me, on Sunday we headed down to Barnes and Noble and I got a black and white wifi Nook. I love it already, and I plan on finally finishing some of the great ebooks I have (most notably, Confessions of a Public Speaker, which is delightful but reading on a computer screen just doesn't do it for me). I'm also the newest fan of Project Gutenberg, I will finally get to finish Moby Dick! As far as Linux compatibility goes the device is great, it mounts as standard usb device so you can simply copy files over, or use Calibre to send to the device (which it correctly sees as a Nook). And finally, I'm delighted to have another Android device – Linux kernel on my TV! Linux kernel on my ebook reader! Now I just need to buy a sturdy carrying case so I can travel with it.