My boss, CJ Fearnley is a member of The Long Now Foundation which sadly for him in Philadelphia but fortunately for me here, hosts all their seminars in San Francisco. The latest seminar was Matt Ridley's "Deep Optimism" and it was hosted just a block away from where I live at the Novellus Theater at Yeba Buena Center for the Arts.
In spite of the proximity, I'd never been to this theater and I was delighted at the opportunity to see such an interesting lecture at this venue. I headed over to YBCA around 5:30 and picked up my tickets, then walked across the park to the Metreon to get some dinner. I ended up with a steak sandwich from Buckhorn Grill and settled down in the blessedly quiet food court and ate while enjoying a book on my Nook (switched between two books actually – love the Nook). Around 7 it was back over to the theater. Almost instantly upon arrival I was delighted to run into Ilsa Bartlett, who I know from a couple Linux users groups in the area, it turns out that she's a member of Long Now as well (plus a big Bucky fan).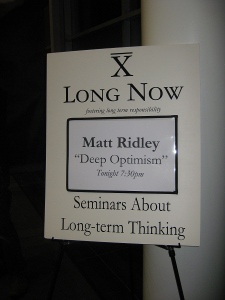 Prior to attending I had seen Matt Ridley's TED talk When Ideas Have Sex and the introduction to this lecture covered many of the same points before he gets into his reasons for long term optimism. I had a pretty good feeling going in that I'd be the choir for this talk, and I was right on. While I may not see hope around every corner personally all the time, I am an optimist when it comes to humanity, life, the universe. I'm constantly amazed at the accomplishments of humanity, even more so when I look into our past and see the creativity and brilliance that went into our creations long before we had the technology that we have today. I avoid extremism whenever possible but always conceded that it was required for progress, and this is something that Ridley discussed in his talk by pointing out that the major success and progress in humanity is largely made by the optimistic and successful, not those who are driven by fear and pressure. He is certainly more optimistic about the free market solving the ills of the world than I am, but he did concede that government regulations do sometimes help avoid catastrophe, even if he doesn't think they are the biggest motivators for change since the correlation statistics don't back that up (he argues that the long view of changes often don't coincide with when laws were put in place). In all I really enjoyed the talk and to know that there are others who share my overall optimism about things, and that I truly do have reasons to be optimistic. Humans are clever and adaptable, we'll be fine.
On the subject of world view, I finally picked up The God Delusion. While wandering around my thoughts on agnosticism and spirituality in my mid 20s I quickly encountered Douglas Adams whose interview about atheism that appeared in Salmon of Doubt was truly eye-opening for me. From there I learned of Richard Dawkins, The Center for Inquiry and beyond. Dawkins quickly became a hero, I watched the The Root of All Evil? with much interest and excitement. Then, just as I was ready to reach for The God Delusion I became one of those in the camp of I'm an Atheist, BUT… that Dawkins finds so depressing. While I am whole-heartedly an Atheist I can't bring myself to impose my own world view dictated by science and secular reason upon others (and I expect the same respect from others). Instead I live my life ignoring the religion question and cheerfully living within a code of ethics that boils down "Be nice, and help, don't hurt, other people" and hoping my life offers a good example to others who are questioning the need to be a part of an organized faith. I've now come back to this and am looking forward to reading the book with an open mind on the subject. I suspect I will have to go back to ignoring the question out of respect for others in a culture which feels religion needs respecting except in cases where the "respect" is misused to hurt others (and I know it has been), but I am interested to know if there is something I'm missing.
Travel! My sister Heather (middle of the three of us) lives in Alberta, Canada with her husband. I haven't seen her since my grandfather's funeral in 2005 and I've never met her husband, so since moving west I've been toying with the idea for a quick trip up to visit. I've decided to finally make that a reality in the end of May. Yesterday we booked a flight up during Memorial day weekend, so I'll fly out of SFO for Edmonton on the evening of Friday the 27th and come back the evening of Monday the 30th. My sister and her husband will be driving down to Edmonton and we'll be staying at the Hilton Garden Inn West Edmonton and spending our 3 days at the epic West Edmonton Mall. Wikipedia tells me that this is the biggest mall in North America, among other things they have an amusement park and a penguin colony, need I say more? It should be a fun trip, it'll be nice to see my sister and her husband, and I've only been to Canada once and that was just over the border to Niagara Falls a couple years ago.
Finally, I rediscovered video games this week. Over these past few months I've been struggling with the crash time after work and gym when I'm too tired to jump right into project work, but really not in the mood to watch TV. I've been playing Angry Birds, but there are only so many levels! It wasn't until I was having a chat in the Ubuntu California channel this week about Warcraft 3 and Diablo 2 that I was reminded of my love for computer and console video games and was inspired to pick up my Nintendo DS.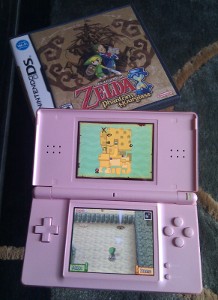 I went with The Legend of Zelda: Phantom Hourglass. I bought this game around the same time as my DS and had forever let it sit on my shelf collecting dust while I focused on more direct puzzle games (Brain Age, Tetris, Scribblenauts) and didn't want to get into another epic storyline. Now it's time! It's been the perfect solution to the problem, a half hour of Zelda leaves me ready to get back to project work.
Today we're heading over to the California Academy of Sciences. During our last visit I didn't get the opportunity to explore the Rainforests of the World exhibit or the Steinhart Aquarium so I'm really looking forward to seeing both of them.