There was much delicious food this past weekend, I feel like I need to eat salad for a week. Friday I was lurking in the Shimmer Project channel when the conversation drifted from shimmery things and on to the subject of beer. Being a Friday this meant that I then had to go out for an evening of delicious beers at La Trappe Cafe. I was delighted to learn that they had just tapped two sours and was eager to give them a try.
Shortly after we arrived we were informed that they were out of mussels, my default dish and one of my all time favorites so I went with a burger with Chimay cheese. Fortunately the beers that I came for were available! First was Le Terroir, a Dry Hopped Sour. Dry hopping and sour are two of my favorite things! And the beer was up to the challenge, it was my favorite one of the night. Next up was La Folie, a Flemish Red Sour that I hadn't tried yet and was quite good. We wrapped up the meal with a Belgian Waffle and I ordered a simple Cherish Raspberry Lambic, I know I've had the Cherry before but I think it was my first time for the Raspberry and it was a lovely way to end.
Saturday ended up being a pretty gloomy day, we stayed in and the day flew by far too quickly, much of it being taken up by booking my trip to Edmonton and exciting chores like taxes (well, mostly, MJ doing them and me grumpily grabbing supplemental documentation here and there while working on my own things).
Sunday we headed over to the California Academy of Sciences. I've had a membership since September and this was the first time we had made it back. We started our academy trip with lunch at The Moss Room where I finally got my mussels (and clams, and pasta), the only disappointment being that they had run out of scallops right after tempting us with them as the fish of the day. It was a nice place, downstairs and away from the busy Academy Cafe upstairs.
Following lunch we headed straight for their indoor rainforest.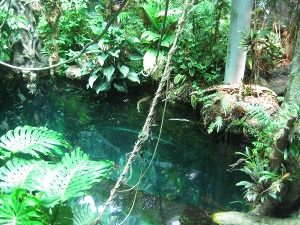 I feel quite fortunate to live in a city with so many stunning museums with exhibits like this. It was really an amazing collection, plants, birds and butterflies, a whole basin with fish in it! And scatters throughout the exhibit were mini-exhibits with lizards, frogs, spiders and all kinds of other small critters.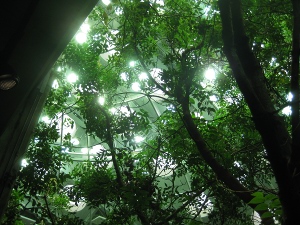 The rainforest exhibit ends at precisely the place we wanted to be – the aquarium.
It's a really nice aquarium, and the first I've been to in the bay area (there is also Aquarium of the Bay at Pier 39). We stayed until closing and I snagged a peek at their albino alligator before heading home. We were back in time for the bi-weekly California Team meeting on IRC where we discussed the upcoming Global Jams. Today I headed out and picked up a couple 4G USB sticks for the test Xubuntu images.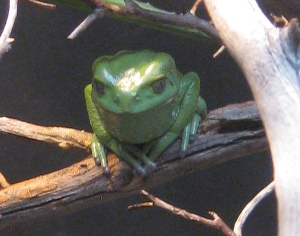 I wrote most of this blog entry (and did a bit of reading) on the roof deck today. It's been so rainy and chilly lately that I haven't spent much time up here in a couple of months so these past couple of days I've been taking advantage of the sunny (if not super warm yet) weather. A request has also been made to the HOA to ask about the cost of adding wireless internet from Webpass (available in our building, and provided for free in our lobby) to the roof. Here's hoping, it would be lovely not to have to tether through my phone while up there.