Thursday was the busiest day of the summit for me. It started with the Community Roundtable where we discussed some of the webapp development community members are doing for Ubuntu resources and how Canonical can make it easier for them (setting up staging sites, expanding access without compromising security). There was also some talk of an Ubuntu Jobs board – both for companies to post paid jobs (this is being worked on) and looking into something that can be used for volunteer positions within the community (maybe OpenHatch is the solution here?). Finally it was brought up that the method of using blueprints to set up sessions can be confusing to new UDS attendees.
– Community section Ubuntu.com –
The current Community section of Ubuntu.com was simply pulled over from older revisions when the theme and other content on the site was updated recently, so this session was to talk about what we wanted to see on the page. Jono started the conversation by mentioning different audiences for "community" – ones who want to "read" (consume documentation, attend, meet) and those who want to "write" (contributors) and that it should be addressed some how. The design team also learned from testing of the site that people expected the Community tab to be something about what Ubuntu did for communities, rather than a community itself. There was also talk of making the pages more impressive to attract more contributors (there are $x people helping do translations now!) and somehow integrating the LoCo teams into it so people can meet other Ubuntu people who are nearby. The Canonical web team is going to put together some ideas based on this session. Session notes available here.
– Ubuntu Membership behavior and Code of Conduct outside Ubuntu.com community –
Should your conduct outside the official Ubuntu resources have consequences with regard to your involvement in Ubuntu? I don't think I have to tell anyone that this is a subject of some debate. It was discussed that individuality is a highly regarded and respected within the community, however you are representing the Ubuntu community when you talk to reporters, present at LUGs or conferences, etc so it's important to represent in way which maintains the values of the community so people get the right impression. More difficult are cases where you may not be directly representing the project at the time (personal Facebook, Twitter) but people know you from the project and may expect that you behave in a certain way. The result of the session? Behavior outside the official project resources matter to some degree, but needs to be weighed and handled on a case by case basis taking into consideration how much you are "representing Ubuntu" in your communications. The body to weigh this is the Community Council and it was stressed that every attempt should be made to resolve things in a way that gives people chances and makes clear why certain behavior is a problem and may harm the project. Session notes available here.
I thought this was an excellent session (if I do say so myself!). We had much of the plans outlined already and just needed to formalize some action items regarding the website, the structured mentoring program and leadership elections. The rest of the session we took advantage of the feedback of the amazing people in the room who have seen success in bringing more women in their team (yay Vancouver!) or who have women in their teams who are collaborating with others in the FOSS community to do outreach (yay Italy!). It didn't make it into an action item, but I'd really like to see us put together a document that links to existing resources and adds our own tips for making your LoCo team more welcoming to women. Session notes available here.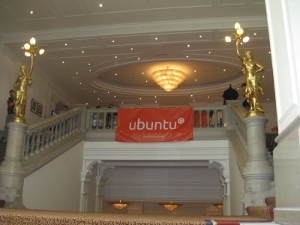 – Config files management for Ubuntu Server –
I have attended a lot of configuration management talks these past couple years. Agreeing upon a policy for configuration management that doesn't break Debian policy is very difficult and I didn't see a clear path forward. A few weeks back Dustin Kirkland wrote a blog post with his proposal for .d directories for policy-compliant config management and sent it to the dpkg-devel list so packages won't have to touch config files of other packages. Session notes available here.
– IRC Council plans – O cycle –
This session began with some really great action items for the team. First it was encouraging folks to apply for Ubuntu Membership through the IRC Council for heavy IRC contributions (in all of IRC, not just core channels, see here). From there we talked about improving tools for operators, the team really needs more folks who know Python to help work on the bots (start here and drop by #ubuntu-bots-devel if you're interested). There was also discussion about making sure channels have the appropriate resources to make sure they run smoothly. Session notes available here.
– Open Week, developerweek, and stuff –
Last session of the day! This was proposed when there was questions about the value of all the Weeks we host in Ubuntu Classroom. Fortunately by the time this session happened many of those fears about value had been reversed – people at UDS said they enjoy these weeks and they should continue! So the session was primarily about making sure the audiences are clearly defined and giving action items to people moving forward for the plans for the next cycle. Session notes available here.
After sessions we grabbed a quick dinner and then met up with the Ubuntu Hungary Team for an evening of night tourism. A group of about 40 people gathered in the lobby for a long walking tour with them. The team did an awesome job and even had the forethought to all dress in their bright orange Ubuntu.hu t-shirts – it made finding our travel guides pretty easy!
The walking tour started on the Pest side of the river.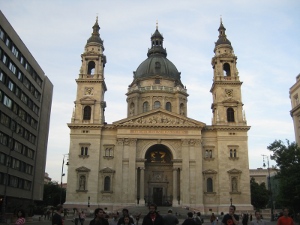 St. Stephen's Basilica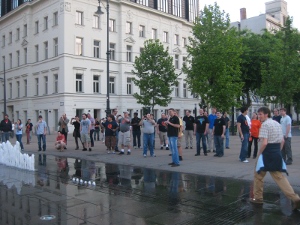 Ubuntu Tourists!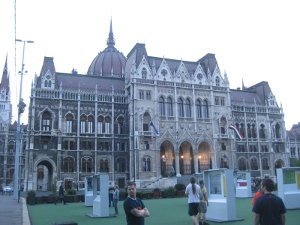 Hungarian Parliament Building
We then walked over the Széchenyi Chain Bridge to get to the Buda side. Once there I was super excited to learn that we'd be taking the Budapest Castle Hill Funicular (Budavári Sikló) up the hill! I saw one on Rick Steves' Budapest: The Best of Hungary which I watched before coming here (thanks again Cheri for the recommendation!) and really wanted to go one one but figured I wouldn't get around to it. I was happy to be proven wrong.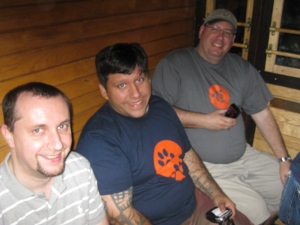 Paolo, Chris and Mike in the funicular
After wandering around the area for a while we hopped on one of the yellow trams and took it back to Pest where we enjoyed a few beers at a nearby ruin pub. On our way back I got dorky tourist pictures with one of the many statues standing (er, and sitting) around the city. We thankfully got back to the hotel shortly before midnight and I actually got a decent night sleep for once.
A huge thanks again has to go to the Hungarian team. From the moment I contacted Hajni a couple months ago to see if we could arrange some outings she's been so accommodating and the team did a wonderful job showing us around their beautiful city. Thank you! Thank you!