On Friday evening MJ proposed and I said yes!
I was completely surprised up until the moment he asked. The whole proposal was quite an amazing undertaking, complete with a limo, a professional photographer, a winery rented out for the evening and private catering for our dinner in a wine cave. The evening ended with another surprise: a long, luxurious weekend stay at The Fairmont Sonoma Mission Inn & Spa.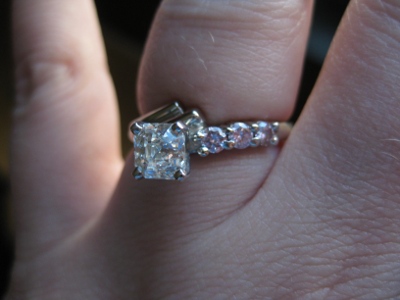 Once we have the copyright released photos from the photographer I'll write a more complete post about the whole beautiful evening. The ring also deserves its own post, MJ picked out the diamonds and had it custom made, and yes, those are three pink diamonds.