On Sunday I met up with fellow Partimus board members Christian Einfeldt and Grant Bowman and volunteers from Ubuntu California, San Francisco Linux Users Group and Bay Area Linux Users Group for a day of installation, triage and cable running at the KIPP San Francisco Bay Academy. KIPP is among the highest performing middle schools in the city, but like many public schools in California (and nationwide) they struggle with funding and as a result their technology budget is limited.
The job of Partimus that day was to review the available computers (all donated Pentium 4s with at least 512M of RAM) and end the day with new Ethernet cables run and 14 machines freshly installed with Ubuntu 10.04 LTS in 3 classrooms.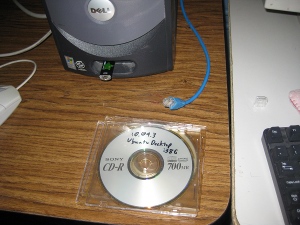 I met up with Christian shortly after 10AM and we got started, he blogged about the day over on the Partimus blog: Fun, Pizza & Ubuntu Linux at a public school! Christian has been working tirelessly with these schools over the summer to schedule meetings with teachers and others in the school to figure out what their needs are for the upcoming school year. Without him none of this would be possible, his talent for reaching out and years of experience volunteering at these schools serves us very well during each one of these volunteer days.
Michelle Mastin was the next to show up, she blogged about the day here: Partimus Install Day – Setting Up Ubuntu Machines for an SF School. Linux gadget guru extraordinaire Michelle came armed with Ubuntu 10.04.3 ISOs and I got to adding them to my USB stick when Michael Paoli of Bay LUG arrived and lent his laptop to the duty of burning CDs as we quickly discovered that only about 25% of the machines would boot from USB natively. Michelle and I got to work installing two machines in a social studies classroom which would be used for video editing.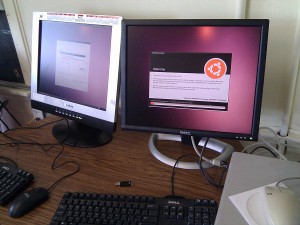 Upon Grant's arrival he worked with Michael and Christian to get the second social studies classroom going, doing the heavy lifting required to get the computers and CRT monitors that were strewn throughout the hallways into the classroom and set up. Installs were soon running on them as well, weeding out one system with a failing hard drive and Michael getting to work on the large managed switch which needed to be reset in order to function properly in the classroom setup.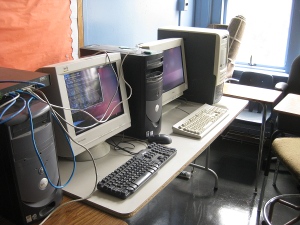 Christian ordered pizza and we gained 2 more volunteers, Eric and Joseph, when the nearby SF-LUG meeting let out after 1PM.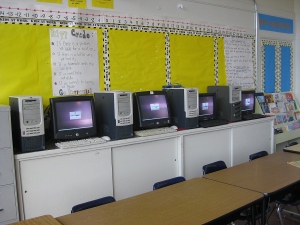 With our fresh volunteers we got to work on running cables and installing the systems in the 3rd classroom, a math class whose teacher requested six machines for their students. We wrapped this lab up, updates and a few configurations made to every system (change of theme and background, standardization of resolution, creation of an unprivileged student account, installation of flash) around 4PM, just in time for the arrival of a 3rd pizza (with 7 hungry volunteers the 2 pizzas earlier wasn't enough!).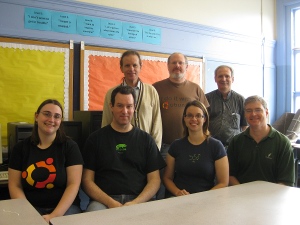 Volunteers!
While we were packing up we were able to meet one of the teachers who I gave my card to in case she had questions. It was a tiring day and Michelle was kind enough to give me a lift home, but a good day, as working in these schools always is!
More photos from the day available here: http://www.flickr.com/photos/pleia2/sets/72157627262380407/
And thanks to this day I was finally able to update Partimus' page about KIPP with photos! partimus.org/ksfba.php