This past week I worked with Jack Deslippe to get everything together for the 20th Linux Anniversary Linux Picn*x in Sunnyvale, California.
Saturday morning we were ready for the picnic! We arrived around 11AM and got the table set up: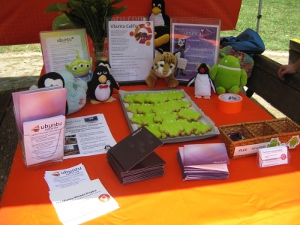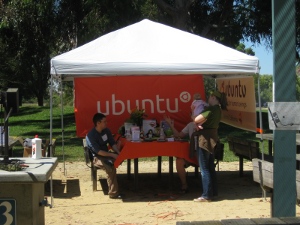 It was the inaugural use of the Approved Team Gifts from Canonical (Ubuntu banner and tablecloth) and my new Ocelot stuffed animal. I'm also really glad we went with the flowers again, I was able to pick these orange and purple ones from a flower stand 2 blocks from where I live, win!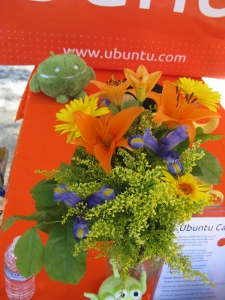 Several of us who were working the table are also Android fans, so when my fiance got me an Android cookie cutter last month I knew I'd be using it to make cookies at the picnic, even if it was an Ubuntu booth, it was a Linux picnic!
Cookie recipe:
1 cup butter or margarine (two sticks)
1 cup sugar
2 eggs
1 teaspoon vanilla
3 cups flour
1/2 teaspoon salt
1 teaspoon baking powder
Mix together butter and sugar, and beat until light and fluffy.
Beat in eggs and vanilla, add flour, salt and baking powder.
Blend well.
Chill 2 to 3 hours.
Roll out balls of dough into sheets 1/8 inches thick, cut with [Android!] cookie cutters.
Bake at 350F degrees for 10 minutes.
Frosting:
1/2 cup soft butter (1 stick)
1 1/2 cup confectioner's sugar
2 teaspoons vanilla
food coloring
Mix butter, confectioner's sugar, and vanilla together until creamy.
Mix in a couple of drops of [green!] food coloring
These recipes made about two dozen Android cookies, I doubled the recipe to get the four dozen I brought to the picnic.
There were also tables for SVPerl, Fedora, Haiku, the local Ham radio club and others. The weather was beautiful, I met some really interesting people and had some great sysadminy conversations and we gave out about 25 Ubuntu CDs to new, interested users.
More photos from the picnic are here: http://www.flickr.com/photos/pleia2/sets/72157627409699667/
What's next? The California Team is busy these next few weeks!
I'll be at the Solano Stroll and have an Ubuntu Hour in San Francisco scheduled for Wednesday, September 14th.