Back in June I wrote: Buy Ubuntu earrings and help schools using Ubuntu!
Since then there have been several requests for a silver color and Maile Urbancic of Boutique Academia responded to those requests!
The silver color Ubuntu earrings are now a reality, they are rhodium plated (rhodium is silver colored, but doesn't tarnish like silver). You can now get your very own for $18.99, plus shipping and tax, where applicable.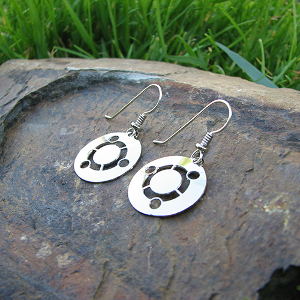 Boutique Academia Ubuntu Earrings
As I mentioned in my first post about this, $6 per pair will go directly to the operating costs of the non-profit Partimus.org which puts Ubuntu-based systems in the hands of school children through projects and computer labs in schools in the San Francisco Bay Area.
Partimus is a registered 501(c)3 non-profit in the United States, details for how to donate directly can be found here. Please request a donation receipt if you need it for a tax exemption. Be sure to visit Partimus.org or contact me directly at lyz@partimus.org for more details about the work we do.