It has become a an annual tradition, BerkeleyLUG teams up with Ubuntu California and the local non-profit Partimus to staff a booth at the Solano Stroll in Berkeley, California.
From the Stroll website:
Since 1974, The merchants, restaurants, and professionals, as well as the twin cities of Albany and Berkeley CA, have hosted the Solano Avenue Stroll, the east bay's largest street festival! The Solano Avenue Merchants Association invites you to come and see what makes Solano Avenue such a wonderful place.

Over five hundred vendors, non-profit organizations, food booths and entertainers!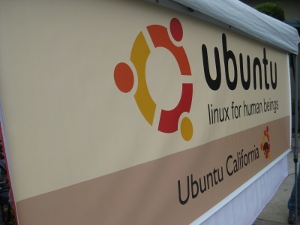 I arrived at the BART station a little after 9:30AM and was picked up by Lisa who brought me to the booth where Jack and Ian and his sister had already had most of the booth set up. We got to work getting the rest together as we began welcoming the first visitors to the booth.
Throughout the day we gave out about 50 pressed CDs and over 100 CDs burned by booth volunteers. This year we noticed an increase in folks asking for 64-bit so we'll be sure to have more on hand next year.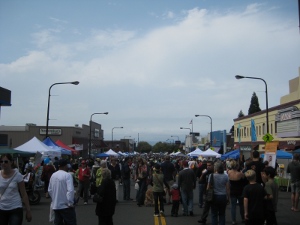 We must have spoke with hundreds of people throughout the day, many of whom had heard of Ubuntu (it is Berkeley, afterall) but weren't sure what it was and where happy to learn that they could try a LiveCD for free. We even had one person who approached us and responded "Yes, since you gave me a CD last year!" when we asked him if he was familiar with Linux or Ubuntu. We wrapped up the booth when the stroll closed at 6PM.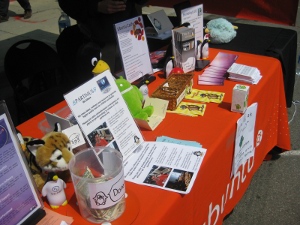 I think the most inspiring part about the day was seeing the diversity of people who are users of Ubuntu and having the opportunity to try and attract them to contributing. Coming to a general community event like this one really is quite a different experience than the technical venues that teams tend to target, not the least of which being that we were the only software related booth at the festival.
More photos from the event can be found here: http://www.flickr.com/photos/pleia2/sets/72157627650086116/