My fiancé is a network engineer who frequently has to travel for conferences, and this month I tagged along for a week to visit my old home of Philadelphia.
I decided I would attend a meeting of the Philadelphia area Linux Users Group (PLUG) North chapter on Tuesday evening. When I noticed they didn't have a speaker a few weeks back I volunteered to give a presentation on Ubuntu 11.10.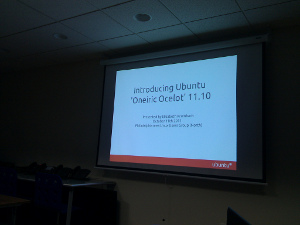 I uploaded my slides here: ubuntu-11.10-plug.odp, ubuntu-11.10-plug.pdf
Please excuse the Unity and Gnome3 jabs, I knew all 12 of the people who attended the meeting and it was all very casual, well-taken and lead to great discussion, YMMV :)
Thursday was release day! We planned our schedule for the week so that we had Thursday free from conference stuff and could attend the Ubuntu Pennsylvania Release Party at National Mechanics in downtown Philadelphia, just blocks from our hotel.
I brought along my Ocelot stuffed toy to share in the festivities (and help mark our table as the Ubuntu one!).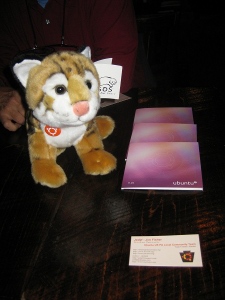 We ended up with somewhere around 20 people coming out. I moved to California about a year and a half ago and there were lots of new faces from the last time I'd been to an event. It was also great to catch up with several friends who I hadn't seen in quite some time.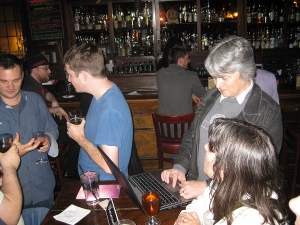 One of the LoCo members was able to burn a couple CDs, a few netbooks were floating around running Oneiric off of USB sticks and we even had a couple upgrades completed. I got to meet a programmer who was looking for ways to get involved with Ubuntu, had some interesting ideas about making the desktop itself more contributor-friendly and who had already uploaded some things to spreadubuntu.org.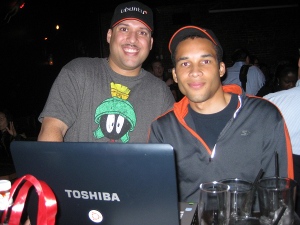 I've uploaded a few more photos from the event here:
http://gallery.ubuntupennsylvania.org/v/20111013/
Huge thanks to the new Ubuntu Pennsylvania team contact and recently approved Ubuntu Member Jim Fisher (jedijf) for organizing such a great event at such an accommodating venue.
Finally, in addition to all the release excitement, today I learned I'd been re-elected to the Community Council. Thanks again to the community for their faith in my position there, it means a lot and I feel really good about the path forward!