The second day of UDS!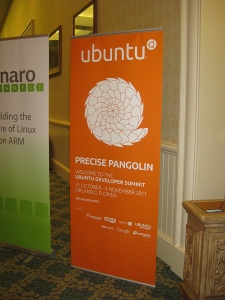 – Community Roundtable –
We spent this roundtable reviewing the results of the Ubuntu Community Survey (see: here). The discussion primarily centered around exploring what type of "bickering" in the community that people were experiencing and if we could address it. From there we began discussing responses to the leadership questions where we touched upon not only individuals feeling empowered to join the leadership teams within the community, but those leaders themselves feeling as though they could make tough decisions as needed.
– Meet with the Ubuntu Desktop Designers –
This session began with several of the Canonical Desktop Designers offering introductions. From there they discussed some of the tools they're making public via their site and blog at design.ubuntu.com, including the toolkit page which has links to branding guidelines and logo files, Unity details, and more. The topic of design tools was also raised because of concerns over design teams not using Linux-based tools for their development work, and Scott Richie asked if all wine bugs were fixed – could they use Ubuntu for design development? It was out of this session that I learned about the Pencil Project for prototyping. From there the discussion also covered the low number of configuration options in Unity and Gnome3 itself which the design team is working to resolve.
– Development documentation improvements –
The session reviewed the points from the Getting involved with Ubuntu development survey (see: here). There was a lot of interesting feedback in the survey which can help improve the documentation, including what resources individuals who took part in the survey learned Ubuntu development from and precise examples of how they believe the documentation can be improved like by providing more packaging examples. They also are working to get more new packagers to review the Ubuntu Packaging Guide, and to report bugs as they find them. I also found the survey interesting because they covered where folks get Ubuntu development news, and as part of the Ubuntu News team this was really valuable to me.
I've uploaded full notes from the session here: community-p-dev-docs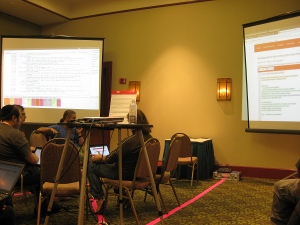 – App developer site resources section update –
This session was focusing on improvements to developer.ubuntu.com/resources/ to make the page easier to navigate and scalable as the documentation, links to API specs, tutorials and other "resources" grow. The team was interested in reviewing how other successful application developer portals get better ideas about how to structure their own, but were also mindful that not all developer portals have the same goals. There was also a very interesting proposal of making the platform diagram more interactive so with something like a mouseover an individual could perhaps see a path they could use from kernel to application.
I've uploaded full notes from the session here: community-p-app-developer-site-resources-section-u
The afternoon was spent with the Leadership Mini-Summit (see: here). I could probably spend a whole post talking about just the topics covered in these three hours but I'll keep it short for now.
We decided to focus on a few key sections of the outline on the wiki including:
Limiting Council membership as far as terms or number of councils an individual can be on at once to encourage participation from a broader group
Best Practices for individuals participating on councils, boards and general leadership positions
Canonical-Community Interaction
Several action items came out of this session but it was mostly a lot of discussion to define what the challenges are within our growing community and brainstorming some ideas for how to address them in ways which would work now and could scale in the future.
I think my favorite proposal was to adjust Community Council meetings to add a portion of every meeting where we do a public check in with another council, board or team within the project to see if there is anything we can help with or they wish to discuss. There was also talk of ways which we can better advertise the Leadership Code of Conduct so that contributors in leadership positions have a better idea of what is expected on them within their role.
Charles Profitt took a great photo of the session here:
http://ftbeowulf.wordpress.com/2011/11/01/uds-leadership-summit/
I've uploaded full notes from the session here: community-leadership-summit
Tonight we had the Ubuntu Women dinner! Seven of us from the summit piled into a van and headed out to meet up with Michelle Hall of Qimo for Kids fame. She welcomed us into her home where we enjoyed a great dinner that included salad with lots of toppings, and home made garlic bread and an amazing chocolate bread.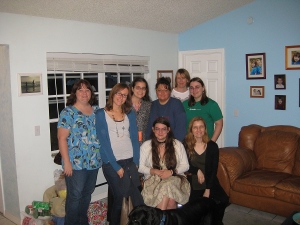 We wrapped up the evening at her place by spending an hour outside in the back yard with a fire and some s'mores. Thanks again to Michelle for such a great welcome (and it was so nice to finally meet her!), Amber Graner for driving us all out there and to Michelle's husband Michael for helping with planning (and offering to drive until capacity required the van!) and doing the graham cracker run required for the full s'more experience.