It was a beautiful morning on this day three of UDS.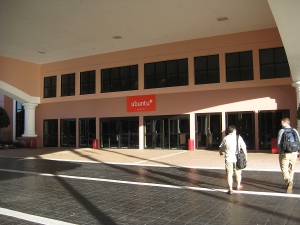 – Community Roundtable –
The Community Roundtable today began with discussing install parties and how we could help a representative from a LoCo team to run one in his area. We pointed him to the LoCo Running Installfests documentation and I gave him my card so he felt welcome to follow up with me for questions. Thoughts were gathered regarding the Leadership Mini-Summit the day before, whether there were improvements which could be made to our plans to continue the summit on Thursday and the suggestion to have each proposed subject presented by person who proposed it. We began to continue the review of the Ubuntu Community Survey (see: here) and then Mark joined us and we moved into discussing the balance between a community where people can always influence the direction of Ubuntu, but also empowers leaders to move past stalling points to make difficult and sometimes controversial decisions.
– Ask Ubuntu for the experts –
I don't currently use askubuntu.com so if I ever decide I want to this session will be great to reflect upon. It was primarily a crash course for experts who may wish to contribute and included highlights of the About page, how does askubuntu work? and the available video tutorials for using the site. I was also very interested to learn that beyond just web-side filtering, there are email and RSS feed options available, making this a much more accessible option for me.
– LoCo Team Portal during the P Cycle –
The LoCo Team Portal is a big project and their action list is long – even without adding a lot of ambitious features. The team discussed looking into using Open Street Map, changes to photos, ability to have one-click "announce this even to mailing list/identica/twitter" functionality and a section for event recaps which would replace event recap wiki pages for teams who wish to use them.
The portal really needs volunteers familiar with Python since unfortunately rather than gaining volunteers over the past year the number of folks working on it has actually decreased. Toward the end of the session I asked if a quickstart guide to potential contributors could be drafted so I could more easily point people to the project instead of just saying "join #ubuntu-website and talk to them" so that's now being added to the blueprint, yeah!
I've uploaded full notes from the session here: community-p-ltp
– Design and community roundtable –
This was a really, really great session. I am completely useless with design and art of any kind, but I frequently get questions from my fellow community members about how they can do art and design work. My general answer until now has been to read the ayatana/design mailing list and read the Canonical Design blog to learn more about what they do. There are a couple of public design contests per year: the wallpaper images and countdown banner, which I direct people to when they are going on. A suggestion was made to expand these calls for design/art to things like LibreOffice templates and more so that designers and artists will just need to go to a "what design/art thing can I contribute to now" page to learn how to quickly and easily find a path to contribute their skills. I followed up with Charline Poirier after the session to thank her and the team and she gave me her card to follow up if I have more suggestions.
I've uploaded full notes from the session here: design-p-design-and-community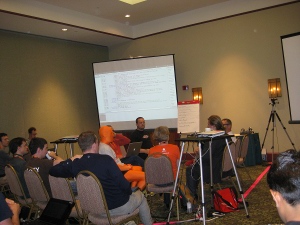 – Reducing Community Bickering –
This session is another result of the Ubuntu Community Survey (see: here) and began with discussing how to deal with the demotivating nonconstructive criticism on blogs. From there we did some discussing about stepping into list threads which get out of hand more quickly and the example of the Perl community was brought up because they were able to transform the abrasive culture of their lists through similar effort over time. Admittedly, I think the Ubuntu Community is mostly really great, particularly when compared to other open source projects that I've worked with but it is good to identify these issues early.
– Accessibility Team Community Goals –
While I'm not involved, I really love the Accessibility Team. They do really great, important work and I love sitting in on some of their sessions at UDS. In addition to their typical plans (in notes linked just below), it was interesting to learn that they also wished to cater to learning or cognitive disabilities once they have the resources.
I've uploaded full notes from the session here: community-p-accessibility-team-community-goals
– Ubuntu Leadership Team Goals for -P cycle –
The first item on the agenda was a name change for this team, even I was thrown for a moment by the title of this session. The "Leadership Team" is actually a team created to be a team which writes leadership-related documentation and acts as an informal, public mentoring base for current and future leaders within the Ubuntu community. From there we had a lot of great discussion about scope, purpose and leveraging existing documents in the community like the Building Community documentation.
I've uploaded full notes from the session here: community-p-leadership-team
After all the sessions for the day the Community Council sat down for an in-person meeting. In the room we found an ominous "You guys are doomed :-(" note, presumably from a previous session, on the paper board in the room so Amber was quick to fix it: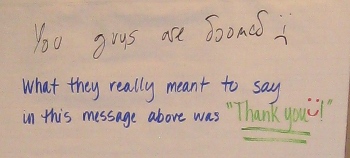 We kept the stream on in the room we were sitting in and opened the #ubuntu-meeting channel up for discussion. We worked through our short agenda and a couple other items and spent the rest of the time discussing some of the current perceptions around Ubuntu and Unity from the community and users.
From there I attended the Ubuntu Testing BoF for a while, and at 9PM it was time for the Florida LoCo sponsored Classic Horror Film – with popcorn, candy and drinks!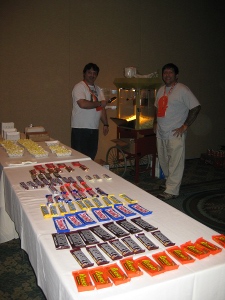 We got to watch the ever-great Night of the Living Dead. Huge thanks to the Florida LoCo for setting it up!