Several months ago I tossed up a devel site on one of my servers so Pasi Lallinaho and I could get to work on the newly planned Xubuntu website. He blogged about it with a teaser here back in August.
It's taken some time, but we now have a formal staging server on one of Canonical's servers and have pulled over all the content from the current site and are now wrapping up the last task items before we launch and doing a final, thorough, content review.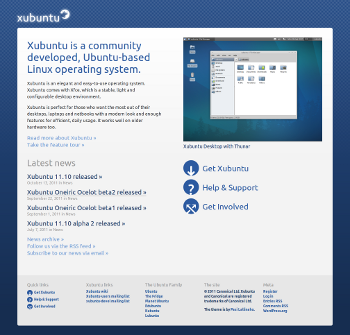 Want to help?
This weekend, on Saturday, November 19th, at 22:00 UTC, the Xubuntu website team will be hosting a Website Sprint in #xubuntu-devel on irc.freenode.net. Everyone is welcome to join us!
During this sprint we will:
Unable to attend? We'll be updating https://wiki.ubuntu.com/Xubuntu/Website/Sprint throughout the next couple days to provide a full list of tasks we wish to get to during this sprint so even if you're not available during the IRC-based sprint itself we invite you to review that page to see what tasks we have available and outstanding. You're also welcome to email me directly at lyz@ubuntu.com with suggestions or join #xubuntu-devel to talk to myself (pleia2) or Pasi (knome) at any time to offer suggestions. Or, of course, leave comments here!